Weight of the matter: What are Eman Ahmed's doctors, sister fighting over?
Hindustan Times |
HT Correspondent
Apr 26, 2017 12:04 PM IST
Doctors say Eman has lost 333kg over the past two months, while her sister estimates that Eman is just 60kg lighter.
The spat between the sister of 36-year-old Eman Ahmed and doctors at Mumbai's Saifee Hospital seems to have turned uglier, with the Egyptian's doctors saying they would no longer attend to her.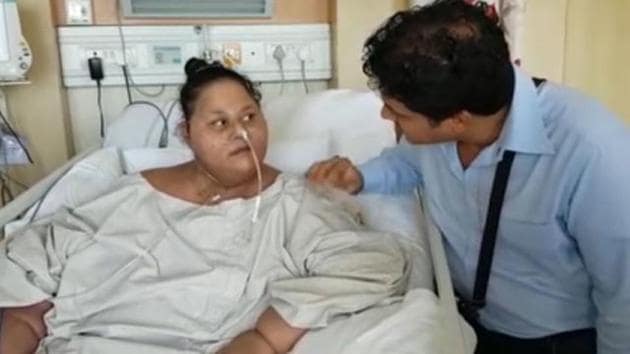 What are they fighting over? We break it down for you:
Eman's health
What doctors say: Eman spoke four sentences in Arabic – for the first time in years – after a speech therapy session on Tuesday. The CT scan report proves she has not suffered a stroke since arriving at Saifee Hospital.
What her sister says: Eman has been critical for one-and-half months and she has been put on massive medication to stop her brain activity. Her face and hand are bluish.
The amount of weight Eman has lost
What doctors say: Eman has lost 333kg since she arrived in Mumbai on February 15 for treatment.
What her sister says: I don't think she has lost more than 60 kg.
If Eman is fit enough to take a flight back home
What doctors say: Eman's condition has improved by '70%' compared to her health before treatment. She is 'medically fit' to take a flight back home. She needs rehabilitation and her medications need to be continued, which can be done at home, said Dr Aparna Govil Bhasker.
What her sister says: Eman is very sick. She suffered thrombosis 10 days ago. It's the second time that has happened after she got here. She is being fed through a feeding tube, owing to which she's not able to talk
Getting a second opinion
What doctors say: Eman's sister Shaimaa Selim refused to take prior permissions before she called the doctor. To get a second opinion, there is an application form, which Selim refused to sign. So, we didn't allow the doctor from Egypt to examine her, said Dr Bhasker.
What her sister says: A doctor who had travelled from Egypt to examine Eman was not allowed to see her.