An 'anthem' cannot save or rejuvenate Mumbai's rivers, Mr Fadnavis
Updated on Mar 01, 2018 01:05 AM IST
That senior-most officers of Maharashtra government look awkward on camera is the least of the problems of this so-called anthem video.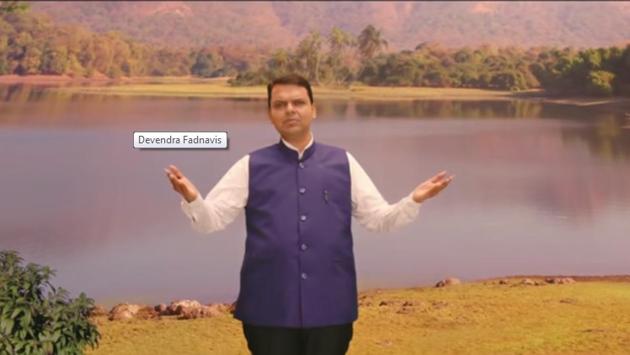 How do you take an affable and young chief minister, a genial looking police commissioner, an earnest looking municipal commissioner, and make them look awkward? By making a music video with them, that too with a faux anthem on an issue which needs concerted, holistic and principled action.
The Mumbai River Anthem released online this week featured CM Devendra Fadnavis with his banker-wife Amruta, police chief DD Padsalgikar, civic chief Ajoy Mehta, forest minister Sudhir Mungantiwar among others, trying to sway to a pleasant number by ace singer Sonu Nigam – Fadnavis gamely lip-syncing a large part – but they appear out-of-place and self-conscious, perhaps even a touch embarrassed. They never claimed to have the acting chops, after all.
That senior-most officers of Maharashtra government look awkward on camera is the least of the problems of this so-called anthem video. It raises questions of propriety and ethics of the CM and top bureaucrats, accompanied by the CM's wife who fancies herself as a part-time singer, appearing in a private video done by a well-known music label. It is not a part of the government's effort to save or rejuvenate Mumbai's rivers.
The CM's office justified his appearance because "it was for a social cause". But its relationship with NGOs like River March supposedly working to restore Mumbai's rivers is unclear; it apparently urged him to do the video. The opposition Congress and NCP raised pertinent questions about the correctness and implications of it all. They demanded to know how top bureaucrats were in a private video, how the music label was selected, how shooting was allowed in the CM's official residence and so on. They also mocked Fadnavis for taking the time out to "act" and asked why he had not done something similar to prevent farmers' suicides across Maharashtra.
Beyond propriety, it raises questions about Fadnavis's intent. That Mumbai's rivers – Dahisar, Poisar, Oshiwara and Mithi – need a thorough cleaning and rejuvenation is beyond doubt. Till the July 2005 flood, most Mumbaiites did not even know that rivers existed in the city or that Mithi, which caused such grief that fateful day, was not a nallah.
The rivers originate in the lush environs of the Sanjay Gandhi National Park or the large green cover outside it, but are resplendent in their natural glory only within those precincts. No sooner do they make their way across the city to drain into the Arabian Sea at various points, they become repositories of stinking garbage, untreated and toxic waste, and multiple kinds of pollution from the industries, homes and slums along their banks.
Successive governments made the right noises about cleaning them and restoring them to health. Budgets were prepared, allocations made, audits done, and plans made.
But restoring or rejuvenating Mumbai's rivers has been a sputtering operation, devoid of serious commitment of attention and resources, and lacking a holistic or detailed long-term plan. People-led efforts took off on a modest scale in recent years but they do not – and cannot – substitute official action.
At the core of this lies the unwillingness or inability of governments, municipal commissioners, and planning authorities to comprehend that Mumbai is a peninsula with a unique and complex system of rivers, mangroves, creeks and estuaries. Together, they form a web-like drainage and protection system for a coastal city. The rivers cannot be restored unless this entire eco-system is protected, cared for and urbanisation plans are made around it.
However, in the last three years, Fadnavis has pushed for a number of infra-structure and commercial projects in river-origin areas, including a multi-modal transport corridor in the National Park and the car shed for Metro III in the Aarey forest.
Environmentalists have been appalled at his vision and obstinacy. But their pushback has yielded little. He has stone-walled suggestions and recommendations from environmental groups.
That's why the video with Fadnavis in the lead is disingenuous; he is being insincere and shallow on an important issue.
And this, more than his awkward acting, is the problem with the ill-advised video.
Personalise your news feed. Follow trending topics