Andheri bridge collapse: Railways, BMC, IIT-B start audit of overbridges across city today
Hindustan Times |
, Mumbai
Aroosa Ahmed
Jul 06, 2018 10:50 AM IST
Three days after a road overbridge came crashing down on railway tracks at Andheri, railways and BMC, with help of IIT-B experts, will start studying the structures of overbridges in city.
Three days after a road overbridge came crashing down on railway tracks at Andheri station, the Railways and the BMC, with the help of experts from the Indian Institute of Technology-Bombay (IIT-B) will start studying the structures of overbridges across the city from today.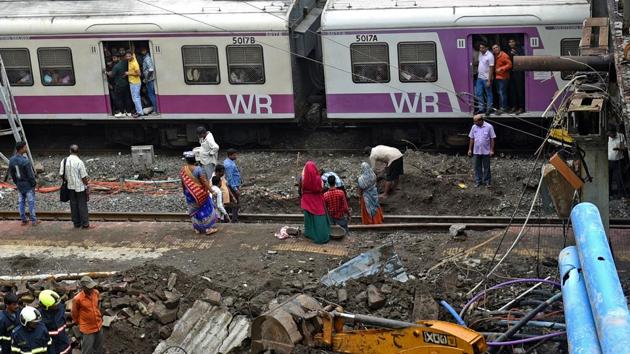 The decision was taken at a meeting of senior BMC and railway officials at the civic body's headquarters, chaired by municipal commissioner Ajoy Mehta.
The decision comes after two days of bickering between the civic body and the
Railways about who was really responsible for maintaining the bridge. Twelve teams of experts will study in detail both road and foot overbridges across the city, as well as pipelines that pass over railway tracks.
The bridges that will be inspected on priority are Tilak bridge in Dadar, Elphinstone bridge and remaining parts of the Andheri bridge.
The Railways has also decided not to open the north end of the pedestrian Andheri bridge, until its stability is confirmed. In addition, the Western Railway will shutting a pedestrian walkway of the Kalanagar road overbridge in Bandra from Friday. This bridge is also a cantilever bridge, extended for pedestrians. The Railways has also alerted the civic body about the pedestrian side of bridge. An overbridge near the Vasai Road station is also likely to be shut because of structural problems.
Calling Thursday's meeting at the BMC headquarters with the Railways and IIT fruitful, Mehta said, "We will begin with an audit of the Elphinstone bridge and Tilak Bridge on priority."
The teams will then audit 445 other structures over the next four months. A monthly coordination meeting with the BMC, Western Railway and Central Railway will also be organised to take up pending issues.
"Creation of a corpus fund for reparation work of bridges and structures is also likely to be undertaken," said a statement from Western Railway.
In a related development, a metrological team from BMC and railways inspected the Andheri bridge on Thursday and did soil testing along with collecting portion of the debris which will be tested. After the report has been submitted then the railways would give a green signal to start vehicular traffic on the bridge.
"Although there are no cables passing through the bridge, the pedestrian side of the north end of the bridge structure is also heavy and appears to be weak. We might not open the north side for pedestrians after starting the Andheri bridge for vehicles," said a senior western railway official.