BARC develops machine that will reduce tissue damage during cancer treatment
It has been designed to deliver radiation doses precisely on cancer tumours; machine inaugurated by President Ram Nath Kovind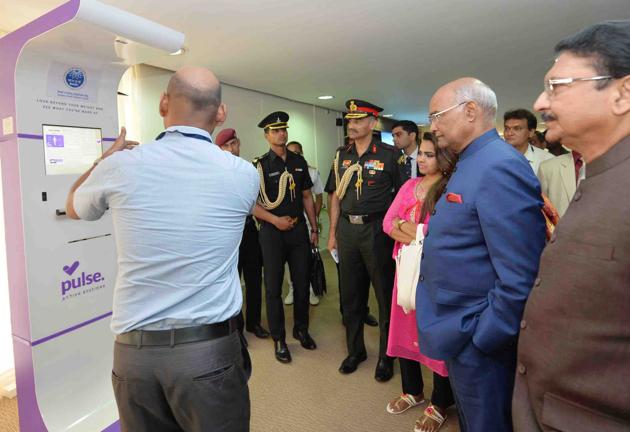 Updated on May 16, 2018 12:28 PM IST
Hindustan Times |
, Mumbai
Musab Qazi and Aayushi Pratap
Bhabha Atomic Research Centre (BARC), a premier nuclear research facility in Mumbai, has developed a new machine to reduce complications in cancer patients undergoing radiotherapy.
The multi-leaf collimator system has been designed to deliver radiation doses precisely on
cancer tumours, especially those with irregular shapes and protect healthy tissue during radiotherapy.
The new machine will reduce complications related to radiation by nearly half and has the potential to increase chances of survival among cancer patients, said doctors from TMH.
"The machine will give focused radiation, which will lessen damage to surrounding tissues," said Dr Supriya Chopra, professor, radiation oncology at TMH. "Since side-effects will be less as compared to conventional cobalt radiation machines, it will help increase the dosage."
The facility will be available to patients at Advanced Centre for Training, Research and Education in Cancer (ACTREC), Kharghar, Navi Mumbai, in the next eight to 10 days, she added.
During radiotherapy, a cancer-affected organ is exposed to gamma radiation from Cobalt-60 source for a specified duration to deliver a desired dose of radiation.
The machine, along with four other facilities developed by institutes under the department of atomic energy (DEA) in various parts of the country, was inaugurated by President Ram Nath Kovind at BARC on Tuesday.
While acknowledging DEA's contribution in providing radioisotope products for diagnostics and treatment, Kovind urged the scientific community to continue addressing pressing issues of the day.
"You must continue to develop newer applications, which can help us deal with challenges such as pollution and climate change, wastage of farm produce, water shortage, fighting disease, management of waste, and so on," Kovind said while addressing scientists and researchers.
Close Story