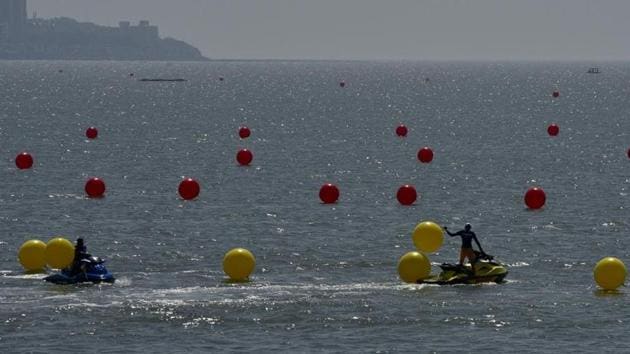 Bombay HC nod for international Grand Prix powerboat race slated for March 3
The court told the chief minister his claims of globalisation meant nothing if he failed to rise above petty disputes,
UPDATED ON MAR 02, 2017 12:27 AM IST
The Bombay high court on Wednesday permitted the much-anticipated international Grand Prix powerboat event slated for March 3 to go ahead.
A bench of justices VM Kanade and PR Bora also rapped the chief minister and the Brihanmumbai Municipal Corporation (BMC) for having made a mountain out of a molehill and for refusing to grant permission till the last minute.
The court told chief minister Devendra Fadnavis his claims of globalisation and the 'Make in India' initiative meant nothing if he failed to rise above petty disputes, especially those concerning an international event of such stature.
The bench rapped the civic body, which had expressed anxiety over the proposed construction of a few temporary structures along Girgaum Chowpatty for the event.
"The whole of Mumbai hosts extensive unauthorised construction. But, one international event and the construction of a temporary structures for just two days makes the BMC suddenly conscious of its responsibilities," justice Kanade said.
The bench was hearing a plea filed by Procam International Pvt Ltd, an international sporting events company. Procam is the organiser of this one-of-a-kind initiative, a motorboat race among seven teams along a 5.2-km course off the Marine Drive bay. The firm said it needs to construct a temporary jetty or a pathway in the sea for the three days in question, along with a few tents or porta-cabins, which will provide medical aid on the beach.
Even after revising its construction plan to suit the authorities, the high-power committee that monitors events and construction at Chowpatty refused to consider Procam's case.
The city collector and the BMC also refused to help, though the Indian Navy, Bombay Port trust and maritime authorities had granted the firm permission.
On Wednesday, justice Kanade observed that the committee's job was to prevent destruction of the beach, and not to prohibit social events altogether.
He asked the state why must it deprive Mumbai of such an event, one that is likely to generate tourism. He also asked why the state chose to stretch the matter until the last minute.
"The committee is an independent body. If the state had doubts, why did it not consult the court instead of forcing the petitioner to approach the court? The CM's conduct is shocking. Is this how the collector and the CM function?" the bench asked. "
"The firm even proposes to construct sites along the sea to attract tourists. A reputed event such as this one will not damage Chowpatty, and will instead help tourism," the bench said.
Read
Mumbai civic body yet to give nod for powerboat racing
Speed racer: We go for a ride on the P1 Panther powerboat
Close