Bombay high court raps Maharashtra govt over bad roads, says can't leave it all on courts
Hindustan Times |
, Mumbai
HT Correspondent
Jan 11, 2018 10:35 AM IST
The bench insisted the state government must step in, as most of the complaints about potholes had remained unattended
The state government cannot leave everything to be looked after by courts, said the Bombay high court on Wednesday, while slamming the Maharashtra government for its inaction in maintaining urban roads.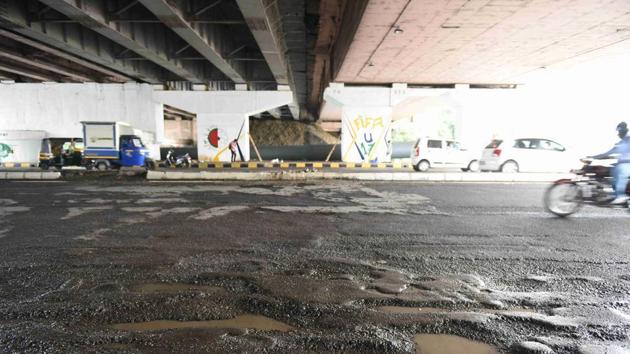 "It can't be that the state will not do anything and leave everything [state administration] to be run by judicial officers," said the bench of justice Abhay Oka and justice PN Deshmukh. The judges were irked to note the state government had remained a mere spectator, although civic bodies across the state had failed to maintain roads.
"The state is not powerless," said the bench, adding, "It has enough powers under the municipal laws and the MRTP Act." The bench insisted the state government must step in, as most of the complaints about potholes had remained unattended. It was referring to the fact that of the total 555 complaints received till December 31 across Maharashtra, except Mumbai, only 78 had been attended to.
It was hearing a suo-moto public interest litigation based on a note forwarded by a sitting judge highlighting the pathetic condition of roads in and around Mumbai. The judge had also highlighted that the potholes and ditches on roads cause not just hardship and inconvenience to the people at large, but also result in casualties.
Acting on the PIL, the court has earlier directed all municipal corporations in the Mumbai Metropolitan Region and authorities like the MMRDA, CIDCO and the Maharashtra State Road Development Corporation (MSRDC) to maintain all roads and foot paths within their respective jurisdictions properly levelled, properly surfaced and pothole free.
The court had also directed the civic bodies to create a mechanism enabling citizens to lodge online complaints about potholes and poor quality of roads, apart from the conventional means of complaining directly by making an application and by telephone.
But one of the lawyers appearing in the matter complained that neither the potholes disappeared nor any properly functional mechanism was in place.
The court has now directed the state government to inform next Friday about the mechanism it proposes to put in place to ensure urban roads are maintained in motorable conditions. It suggested that the traffic police can play a role in this, as they manage traffic on a majority of these roads.