Brace for traffic jams: Mumbra bypass to be shut for repairs from April 24
Traffic flow from JNPT will be restricted, with only 20% of the total vehicles permitted to commute at any given time, while the rest will be stopped at JNPT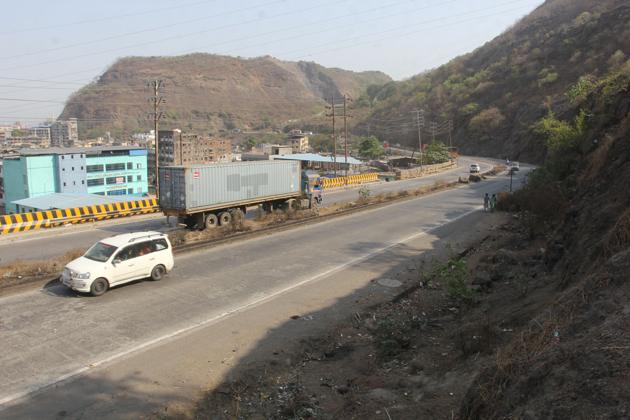 Published on Apr 20, 2018 12:06 AM IST
The traffic situation in Thane, Navi Mumbai and some parts of Mumbai will be affected as the public works department of the Panvel Municipal Corporation (PMC) has decided to begin the work on Mumbra bypass from April 24. The bypass — which is a major route for heavy vehicles going towards JNPT, Ahmedabad, Gujarat, Nashik and Bhiwandi — will be shut for traffic for more than two months. The traffic department has issued several diversions in this period
The traffic flow from JNPT will be restricted, with only 20% of the total vehicles permitted to commute at any given time, while the rest will be stopped at JNPT. The work on the seven-kilometre stretch from Y Junction to Mumbra Retibunder was slated to begin on April 16.
However owing to lack of adequate management on the part of the authorities, it was postponed. The stretch also consists of a 250 to 300 metres of rail overbridge.
"The bearings of the bridge have worn off and will be repaired, along with reconstruction of the deck. The uneven road surface too will be repaired to ensure a smooth commute. The safety wall has collapsed at several places. We will construct the entire safety wall and also close the gaps between the dividers. The work will take around two months to complete," said an official from public works department.
Around 15,000 containers, apart from thousands of other light vehicles, ply on the Mumbra bypass. Its closure will affect the traffic in Thane, Navi Mumbai, Mulund and Airoli. Heavy vehicles from three routes use the bypass: from JNPT to Nashik, JNPT to Bhiwandi, and from JNPT to Ahmedabad or Gujarat.
Amit Kale, deputy commissioner of police (traffic), said, "Heavy vehicles along this road are commuting to and from JNPT, thus we have decided to impose a controlled system of traffic management. Eighty percent of the vehicles from JNPT will be stopped there, while the rest will be allowed to move out. These vehicles will be diverted to three routes."
Motorists going towards JNPT from Gujarat through Ghodbunder Road will be subjected to controlled movement from Thane city between noon and 4pm. Similarly, vehicles from JNPT going towards Gujarat can use the same route in a stipulated time. They can use the Ghodbunder route only during this time.
Only 1,400 to 1,500 vehicles will be allowed to go towards JNPT from Talasari.
Vehicles heading towards Nashik or Bhiwandi from JNPT can take the old Mumbai-Pune Highway for Karjat, Murbad , Shahpur, National Highway-3, Nasik or Bhiwandi. Vehicles from Nashik and Bhiwandi going towards JNPT can take the same route while returning. This route will be operated 24 hours for heavy vehicles, which cannot use any other route.
The Mumbra-bypass was built seven years ago to restrict the heavy vehicles entering inside Mumbra town. However, within couple of days from its construction the road developed cracks and potholes.
The road is under the state public works department.
Close Story