Bridge collapse: Mumbai's western line services back on track; trains run 10-25 min late
Updated on Jul 04, 2018 01:00 PM IST
It took more than 17 hours to restore all lines after the mishap; trains behind schedule owing to speed restriction in Andheri.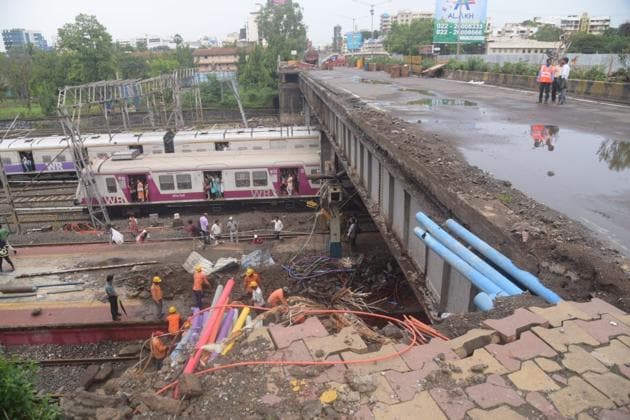 Seventeen hours after the bridge collapse in Andheri, which blocked six of the eight lines, local train services on Western Railway (WR), were restored completely on Wednesday morning.
Services are running smoothly now, though most trains are 10-15 minutes behind schedule owing to the speed restriction in Andheri. Slow trains are operating with a delay of 25 minutes, while the AC train is running 45 minutes behind schedule. Some services have also been cancelled because of bunching of trains, besides which platform number four at Andheri station is shut.
Services may get delayed further as the frequency of trains increases during the evening peak hours.
On Tuesday morning, the bridge collapsed on the tracks, blocking six of the eight lines under it, apart from damaging the roof of a platform.
The last affected line, that is, the south-bound slow line between Andheri and Vile Parle, was fixed around 1am on Wednesday, the WR tweeted. It took railway authorities close to 17.30 hours to restore all the lines fully after the mishap.
WR has imposed a speed restriction of 20 kmph in place at the spot of the mishap, where trains usually run at 100 kmph, which is causing the disruption in the train timetable.
Authorities also cancelled the first air-conditioned local train service scheduled for 6.58am on Wednesday.
WR operates 1,300 suburban services Churchgate and Dahanu stations, which are used by 36 lakh Mumbai commuters every day.