Can Prakash Ambedkar bring unhappy Dalits together?
Despite a massive protest, the Maharashtra government refused to give in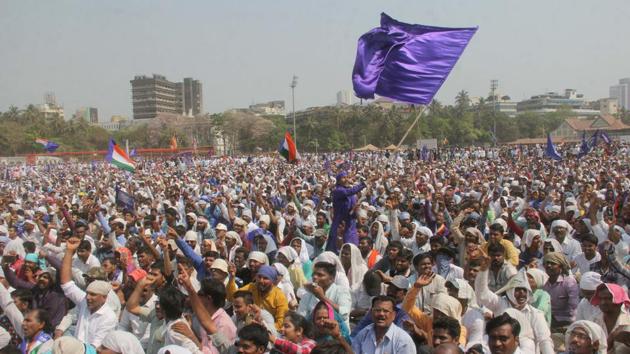 Published on Mar 27, 2018 12:12 AM IST
Hindustan Times |
Naresh Kamath and Sagar Pillai
Despite the massive turnout for the protest organised by Bharipa Bahujan Mahasangh (BBM) chief Prakash Ambedkar to demand the arrest of Shivraj Pratishthan chief Sambhaji Bhide, the state government did not yield or even give a commitment to consider their demands. This raises a question mark on not just the fate of the ongoing protests but also on Ambedkar's leadership to bring disgruntled Dalits in the state together.
Right from morning crowds started teeming at Azad Maidan and by afternoon, it swelled beyond expectations. People who arrived from outside Mumbai carried placards condemning Bhide as the villain behind the Bhima-Koregaon violence who deserved to be put behind bars.
"How come (Milind) Ekbote (another accused) is arrested while the main culprit roams free?" questioned Amol Waghmare, who came from Palghar.
Nitin Kamble, who comes from Pune, said he had come to register his anger. "How right is it to attack innocent people who just went to pay tributes to our ancestors? All we ask is to arrest him and then let the law take its own course," he added.
There were slogans raised, all aimed at Bhide, calling him a villain.
Despite the police department not allowing permission for the rally, some people reached Byculla and they marched to Azad Maidan led by Prakash Ambedkar's wife Anjali and son Sujat.
The people who waited till evening were disappointed that the government did not arrest Bhide despite the protest. However, Ambedkar says he is using constitutional methods to achieve his goals. "We have warned the government that if they do not arrest Bhide, we will ghereo the Vidhan Sabha and will not leave till our demands are met," said Ambedkar. He blamed Prime Minister Narendra Modi for this impasse. "He (Bhide) may be your guru but he has committed a crime and hence needs to be put behind bars," he added.
Many other Dalit leaders and political experts, however, blamed Prakash Ambedkar for the impasse. Jogendra Kawade, a Dalit leader who heads the Republican Party of India (K) faction, said Ambedkar does not take anyone into confidence. "He wants to turn all agitations into a one-man show and does not consider counter views. This disunity is exploited by all and ultimately Dalit causes suffer," said Kawade.
Political analyst Prakash Bal said, "Prakash commands respect for being the grandson of Dr Babasaheb Ambedkar but he is just riding this wave of discontent. He does not have an organisational strength to unite Dalits. If tomorrow he fields candidates, they are not in a position to win.''
Meanwhile the Shivraj Pratisthan has planned 35 morchas across the state on Wednesday. Their demand is to withdraw all cases against Bhide and an independent inquiry in this matter. On January 1, violence had erupted after some people pelted stones at cars heading towards the village for the commemoration of 200 years of the battle of Bhima-Koregaon. Dalit leaders and workers at the village had alleged that Hindutva activists Milind Ekbote of Samastha Hindu Aghadi and Sambhaji Bhide instigated the violence.
Close Story