Changing times for Mumbai train services: Railways look north for relief
Oct 24, 2016 12:03 AM IST
The Western Railway (WR) and Central Railway (CR) are set to make your journey hassle-free by rejigging train timings and starting more services
Miffed with your squashy commute on city's local trains during peak hours? The Western Railway (WR) and Central Railway (CR) are set to make your journey hassle-free by rejigging train timings and starting more services from suburban stations, with a focus on the emerging business and residential hubs.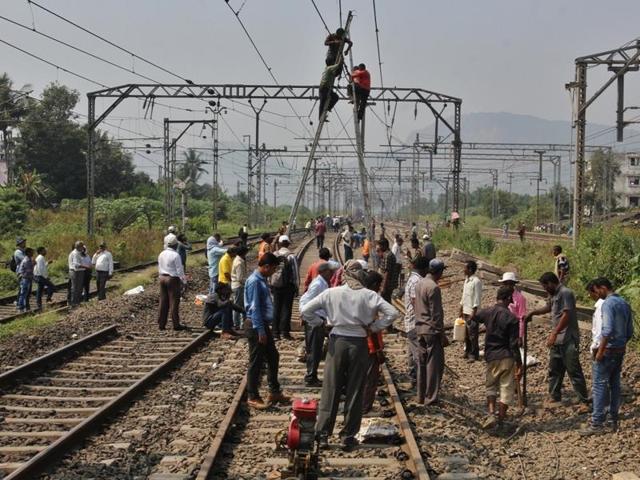 For 75 lakh suburban commuters, the plan seeks to start more trains between newly developed business districts such as Dadar, Kurla and Wadala, and growing residential hubs such as Thane-Kalyan and Navi Mumbai. The new timetable for CR trains is likely to be announced by March 2017.
The concern about the changing transport dynamics and its direct link with population growth in the suburbs and MMR was raised by Hindustan Times in its September 13 edition.
Following the HT report, the issue was discussed in the recently held CR's divisional railway user's consultative committee (DRUCC) meeting.
A majority of the DRUCC members agreed to rejig commuting patterns and backed rationalisation of suburban timetable to optimise the passenger carrying capacity of trains.
"We are examining ways to originate and terminate more trains at stations other than Chhatrapati Shivaji Terminus (CST). This can be done by changing the suburban timetable and curtailing some CST-bound trains. It can happen only after a formal consultation with commuters' committees," said Ravinder Goyal, divisional railway manager, Mumbai division, CR.
The CR will also hold another formal consultation with suburban railway user's consultative committee (SRUCC) and DRUCC next month; following which, the exercise to restructure suburban timetable will start and will be completed in three to four months.
The new timetable is likely to come into effect only by February on the harbour and trans-harbour lines, and by March on the mainline.
The CR plans to introduce at least 10 services from Wadala and Kurla (mainline) in the new timetable.
Meanwhile, the WR is checking technical feasibility to press more trains into service from Andheri, Bandra and Dadar for Vasai,Virar and Dahanu, and vice-versa. The Mumbai division, WR, has already curtailed a few Churchgate-Bandra services and added more trains between Virar and other stations such as Bandra, Borivli and Andheri from October 10.
"It is evident from ticket sales that there is more footfall at Andheri, Bandra, Malad and Goregaon," said Mukul Jain, divisional railway manager, Mumbai division, WR.
The termination of a few Churchgate-bound services to Andheri or Bandra will save at least 20minutes per service. Such restructuring of the timetable will, however, take place only in phases in the next two-three years, said an official.
The WR is also exploring the option of starting a few Virar-bound trains from platform number 7 at Andheri station, which is being used for the harbour line. It has forwarded a proposal to Mumbai Rail Vikas Corporation (MRVC) for the crossover. "The harbour line services are relatively less and so we can utilise that platform to run some Virar services from there," added Jain.
Prabhat Sahai, Chairman and managing Director, MRVC, said, "Since it (the crossover proposal) is their (WR's) operational requirement, we will examine it." In addition, the WR is considering similar rearrangements for Dadara station to optimise the utilisation of the slow corridor platforms.