Charged with 3 murders and in jail for 5 years, Vijay Palande asks for speedy trial
Apr 11, 2017 10:05 AM IST
He has been in jail since being charged with 3 murders in 2012; SC has said trials pending for 5 years must be wrapped up by 2017
Around this time five years ago, Vijay Palande was arrested and charged with murdering three people.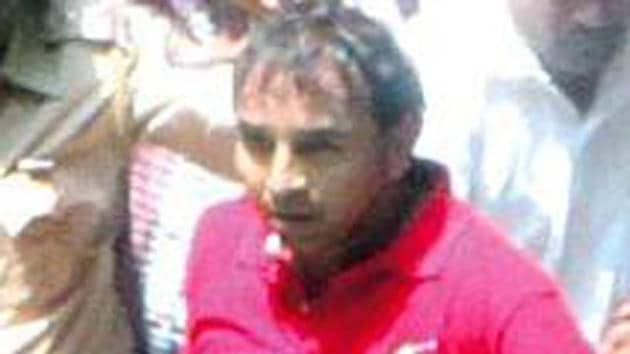 The trial in one of those cases is yet to begin, the second has come to a halt, while in the third case, the victim is yet to be identified.
Using a recent Supreme Court direction that asks all session courts to finish trials pending for five years by the end of 2017, Palande has written asking that his case be expedited, while blaming the prosecution for the delay.
Palande was arrested in April 2012 for murdering Delhi businessman Arun Tikku and film producer Karankumar Kakkad. He had earlier jumped parole after being convicted of another double murder and sentenced to life in prison.The probe into the 2012 murders revealed how the two gruesome murders took place, Palande's past and the people who helped him (see box). Palande was also accused of a third murder — that of an unidentified victim—after the police recovered a skull and bones.
Blaming the prosecution for the delay in the trials, Palande wrote in a two-page application: "I have been in jail for the past five years and the prosecution side is unnecessarily causing delays in conducting the trial without any just reasons."
The trial in the Tikku murder case for which Palande was first arrested has not even began. In the Kakkad murder case, the trial has been stalled since November 2014, after the prosecution examined the first witness, Rita Kakkad. "The third murder case is still not clear. The police have not yet come up with the identity of the deceased. The forensic reports revealed that of the bones the police allegedly recovered, one is of an animal," said Palande's lawyer, Prasant Pandey.
In 2012, the state transferred the cases to fast-track court at Sewri, after which they were transferred to a sessions court. Ever since, none of the cases has progressed. Palande alleged the prosecution failed to provide copies of all documents and evidence to him. "He asked for a consent agreement allegedly signed for a brain-mapping test the crime branch did. It has been a year, the prosecution has not supplied a copy. The court too ordered the crime branch to supply these documents, but the prosecution has been evading complying with the order," Pandey said. The prosecution, on the other hand, claimed Palande was causing delays by filing frivolous pleas. "Even if there are several pleas, the trial can go on," Pandey said in reply. In January, the court decided to make a schedule for prosecution to speed up the trials. The prosecution was asked to bring witnesses from February. But the cases were transferred again to another court. After a month, Palande moved a plea for speedy hearing. The court wants the prosecution's reply.
Who is Vijay Palande?
Vijay Palande is a criminal suspected to be linked to gangster Santosh Shetty. He was convicted for a double murder in 2002, jumped parole, allegedly changed his looks and killed two other men 10 years later in 2012. Who is Vijay Palande and why is he back in the news?
The story so far
Early '90s: Vijay Palande meets Anup Das while working at a Juhu restaurant. Palande introduces Das to Simran Sood, who he claims is his sister
January 26, 1998: Palande convinces Anup to go on a business trip with him to Mahabaleshwar. He sedates Anup on the way, murders him and throws his body down the Kumbharli valley
February 2, 1998: Palande calls Anup's father Swaraj Ranjan and promises to get him to meet his son. He kills Ranjan and dumps his body at Satara road
February 27, 1998: The victims' family files a kidnapping complaint against Palande at the DN Nagar police station
April 2, 1998: The DN Nagar police arrest Palande, but release
August 18, 1998: The police add the murder charge to the case against Palande
November 3, 1998: Charge sheet is filed
November 18, 2011: Palande given a life sentence for the murder of the two men
2003: Palande gets out of Kolhapur jail on a two-month parole, never returns to jail
2006: Palande is arrested from an Andheri apartment, where he was living with Simran. The police discover Palande had a fake passport with the name 'Kiran Kanubhai Rana'. He is sent back to Kolhapur jail
2009: Palande is released on bail after his lawyer argues he spent nine years in jail
March 6, 2012: Karankumar Kakkad, a newbie producer, goes missing. A missing complaint is filed
March 10, 2012: Simran Sood is called for questioning, but she denies knowing Kakkad and the police let her go
April 7, 2012: Businessman Arun Tikku is murdered at his Andheri flat
April 8, 2012: Palande is detained for questioning in the Tikku murder case, as he was a tenant of one of Tikku's flats. He first denies involvement, manages to escape, is caught again and confesses to killing Kakkad and chopping up his body in to pieces
He is arrested for masterminding the murders of Tikku and Kakkad. The police say both murders were for monetary gain
A murderous web
Simran Sood: According to the police, she is Palande's wife. From Jalandhar, she was a regular at page 3 and IPL parties. She has been with Palande since the murder of Anuj Das and his father. Palande used Sood as a honey-trap to lure rich youngsters wanting to make it big. Sood would generally introduce Palande as her 'brother' Karan Sood
Inspector Sanjay Shinde: A crime branch officer who is related to Palande. He is suspected to have facilitated the escape of Palande from police custody
Constable Amol Deshpande: He is suspected to have helped Palande escape from police custody during questioning in 2012
Gautam Vora: A stock broker from south Mumbai, Vora allegedly helped Palande on the day he escaped from police custody. He is also said to be close to Sood.
Dhananjay Shinde: Arrested for his role in both the Tikku and Kakkad murder cases. Shinde has since turned approver and is currently in judicial custody
Manoj Gajkosh: Allegedly helped Palande execute the murders of Tikku and Kakkad.
READ MORE