DRI arrests key player in three-state drug racket
Published on Jun 16, 2018 01:18 AM IST
Jimmy Singh Sandhu was the 11th person to be arrested in the Ketamine drug syndicate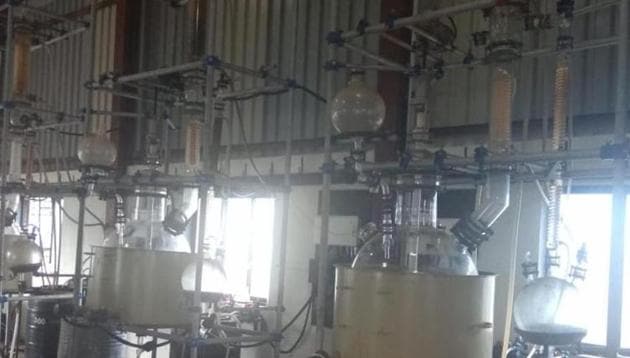 Hindustan Times |
, Mumbai
Vijay Kumar Yadav
The directorate of revenue intelligence (DRI) arrested a key player in a three-state drug manufacturing ring on Friday in Haryana.
Jimmy Singh Sandhu was the 11th person to be arrested in the Ketamine drug syndicate.
Sandhu's arrest comes two days after the DRI, on Wednesday ended its three-day Operation Vitamin, and busted a factory in Panvel, Maharashtra.
Officials found that impure Ketamine was made at this factory, sent to Goa and Gujarat, from where it was smuggled to the United Kingdom and Canada.
Ketamine is an anaesthetic and works as a hallucinogen.
The crackdown was one of the biggest this year, and saw the DRI raid 14 residential and industrial places, and seize 308kg of Ketamine, 2,000kg of the raw material, enough to make another 250kg of the drug, and drugs such as hashish, cocaine and opium, worth ₹35 crore. Among the 11 people arrested so far are two UK nationals and one from Vietnam.
Sandhu owned the facility in Goa where the two British nationals processed the semi-done Ketamine brought in from Panvel, officials said on Friday. "Sandhu's interrogation could throw more light on how the narcotic cartel ran," said DRI additional director general Shravan Singh.
Among the DRI's raids, three took place in Goa, including one at a factory called Vijay Industries in Sattari.
The factory is located on a plot that belongs to Vasudev Parab, a local BJP leader. "Sandhu owned the factory. He would get the Ketamine drugs prepared by the British nationals here, then smuggle them into Canada and Punjab," another senior DRI official said.
A DRI source said Sandhu was big catch in the case, as he is known to have links with international drug cartels. "He used to stay in Canada. But, four years ago, was deported to India after he was caught by authorities there. He has a plush apartment in Dubai," the source told HT.
DRI's interrogation of one of the British nationals arrested in the case, Jonathan Thorn, revealed he was also a key player in the racket, and on a lookout list of the British government in more than 20 drug-related cases there. In most of those cases. Thorn was convicted.
Meanwhile, the other 10 arrested in the case — Rahul Shedge, Anthony Paul, Akshinder Sodhi, Ishrat Parmar, Purohit Jagdishbhai, Mayur Sadrani, Vietnam national Nyugeh Kuong, Sarpreet Singh, British nationals Jonathan Thorn and John Brecken — were produced in a local court and remanded in police custody.