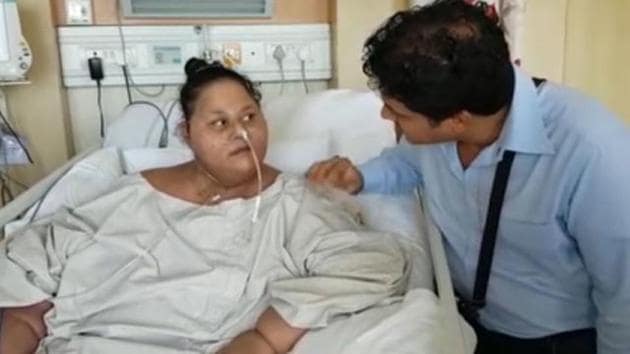 Eman Ahmed treatment: Mumbai hospital gives her reports to Abu Dhabi experts, yet to get update
Eman Ahmed might be the first adult to receive a drug that is likely to cure her rare genetic mutation
Hindustan Times | By Sadaguru Pandit
UPDATED ON MAY 01, 2017 09:48 AM IST
Egyptian Eman Ahmed's weight loss regime, which includes a plan to treat the rare gene mutation suspected to be the cause of her weight gain, will now be conducted by VPS healthcare officials in Abu Dhabi.
The medical trial scheduled by Saifee Hospital, where Eman underwent a weight reduction surgery, will now proceed at the behest of her new doctors in Abu Dhabi.
"We gave Eman's new medical team her reports to sign, but haven't received any updates from them yet. We were in the process of scheduling a medical trial with US-based pharmaceutical companies, which are the only manufacturers of the drug that can possibly treat Eman's gene mutation. However, her doctors in Abu Dhabi will take over," Dr Muffazal Lakdawala told HT.
Eman, who lost more than 300kg in Mumbai, has a rare genetic defect that causes severe obesity. A study had revealed that a mutation in the gene responsible for instructing a protein involved in the regulation of body weight was causing Eman's weight gain.
There is currently no specific treatment for this condition. However, a drug called MC4R Agonist, manufactured only by a single pharmaceutical company in the US, might help Eman. "The drug has been tested on three paediatric patients. Eman will be the only adult to receive the drug, if she undergoes treatment. The plan is to track her weight loss for six months and then decided whether to change her line of treatment once her condition stabilises," added Dr Lakdawala.
Doctors said the drugs may be able to at least partially bypass the signalling block in her brain. However, it is too early to say if the outcome will be successful. "If she has access to these drugs and they are effective, then we have a solution. If not, she may need a more radical surgery, which may cause malabsorption — a process in which the intestine cannot adequately absorb certain nutrients into the bloodstream," said a doctor.
Dr Lakdawala had confirmed that he was in the talks with the agency to sign up Eman and three children from Gujarat for the medical trial, which was supposed to begin six months after Eman's surgery.
Despite numerous attempts, VPS officials remained unavailable for comment.
Close