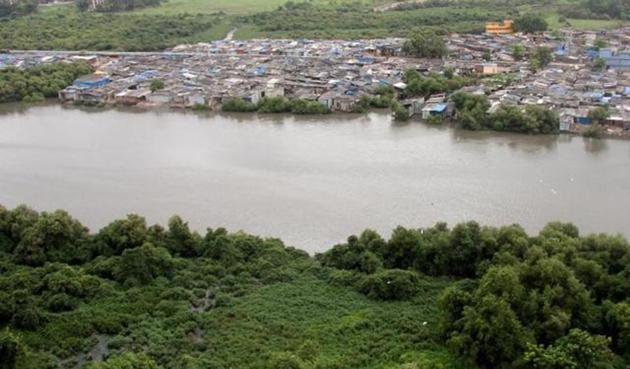 FIR filed over destruction of 1,000 mangrove trees in Thane
This was the third such violation in the area this year.
PUBLISHED ON DEC 25, 2016 12:47 AM IST
Another case of mangrove destruction came to light on Saturday. This time, it was a huge stretch of more than 1,000 mangrove trees near Kahler village in Thane district, about 25kms from Mumbai. The district collector filed a first-information-report (FIR) on Saturday against unidentified persons for the violation under the Environment Protection Act (EPA).
On Wednesday, members of a local non-profit organisation, Shree Ekvira Aai Pratishthan (SEAP), filed complaints with the collector, state mangrove cell and local police about a 3-acre mangrove patch that had been destroyed after large scale of construction debris were dumped at the site. This was the third such violation in the area this year.
Officials said that action had been taken in all cases this year, and circle officers had been deployed to investigate the violation at Kahler from Wednesday onwards itself. "We observed a violation at the site and the sub-divisional officer SDO from the area has already taken action in the matter," said Thane collector, Mahendra Kalyankar.
Officials added that Sujit Tatyapatil, Suresh Deopatil and a group of unidentified persons were booked for unauthorised possession of land and unauthorised debris dumping violations under EPA and Maharashtra Land Revenue Code, 1966. "We visited the site and identified several violations. We have stopped all debris dumping and will make sure there are no future violations," said Santosh Thite, the SDO at Bhiwandi adding that arrests are yet to be made.
In 2005, the Bombay high court banned the destruction of mangroves across Maharashtra and construction within 50 metres of mangrove areas, acting on a public interest litigation by Bombay Environment Action Group, a city-based environmental body. In 2014, the HC banned reclamation and construction on wetlands in the state following NGO Vanashakti's PIL on protection of wetlands.
"Hundreds of acres have been reclaimed for illegal construction in this area, which is ecologically sensitive, and issues such as flooding and waterlogging are a regular feature here," said Nandkumar Pawar, complainant and head of environment cell, SEAP. "This sort of massive reclamation will make situations even worse. While the alleged encroachers are booked, there is an immediate need to convict the violators and restore the mangroves at the site."
During a hearing of a wetlands case from Thane in the Bombay High Court on Thursday, the chief justice instructed the district collector to visit all sites where mangrove destruction has occurred and submit a report regarding the restoration of all sites by the next hearing scheduled in January 2017.
June26 - More than 300 mangrove trees were destroyed due to dumping debris at a one-and-a-half acre stretch near Kahler village itself.
Action: No arrests made and mangroves not restored at the site
April 19 - Environmentalists during a two-day inspection of wetlands along the Thane-Bhiwandi road on April 17 and 18 discovered more than 150 mangrove trees destroyed, and heaps of dumped garbage set on fire on the one-and-a-half acre patch close to Kahler village, merely 25 kilometres away from Mumbai.
Action: No action taken in the matter
April 1 - More than 300 fully grown mangrove trees were destroyed at a one-and-a-half-acre wetland at Kasheli Creek along the Thane-Bhiwandi road
Action: Ongoing investigation in the matter. No arrests made
January 8 - Close to 600 mangrove trees destroyed because of dumping of construction debris at Kasheli Creek in Thane
Action: Circle officers visited the site and drafted a report. No arrests made
15,088 hectares (ha) – Notified as 'reserved forest' area in Maharashtra
5,775 hectares (ha) - of mangrove cover currently in Mumbai
4,000 ha on government owned land (protected forest areas)
• 277 ha in Mumbai city
• 3,723 ha in Mumbai suburban areas
1,775 ha on private land declared as 'forest' (maximum violations seen here)
1,471 ha government owned land in Navi Mumbai (protected forest areas)
1,500 ha on the western bank of Thane creek (protected flamingo sanctuary)
Why should you care: Even after several Bombay HC orders prohibits construction within wetlands, rampant destruction of mangrove trees continue. Wetlands stabilise the coastline, control erosion and provide a habitat conducive for plant and animal species; they prevent floods and filter groundwater.
Close