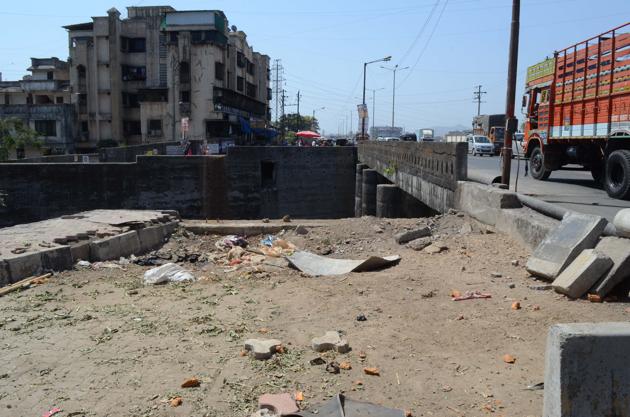 Heavy vehicles may get to use Kalyan bypass in 3 months
Traffic cops say once the bypass road is completed and heavy vehicles are allowed to use it, congestion on Patripool-Durgadi stretch will fall by 60%
PUBLISHED ON MAY 03, 2018 12:23 AM IST
Govindwadi bypass in Kalyan (West) will soon be opened for heavy vehicles. At present, only light vehicles are allowed to use the road as it is half built.
To ease congestion on city roads, Kalyan traffic police opened the 1.6-km bypass road for light vehicles in February 2017. However, situation did not change much as heavy vehicles continue to use internal roads.
As per traffic police department, at least 20% traffic is being diverted through the bypass. They said once the bypass road is completed and heavy vehicles are allowed to use it, congestion on Patripool-Durgadi stretch will fall by 60%.
Considering congestion in the city and traffic snarls during monsoon, traffic police have asked Maharashtra State Road Development Corporation (MSRDC) to complete the project at the earliest.
"The authorities have initiated the pending work and have assured to complete the project in three months. We want the bypass be ready before the monsoon so that heavy vehicles can be diverted onto it. This will ease the congestion in several parts of the city during rainy season," said Sambhaji Jadhav, senior traffic police, Kalyan.
MSRDC is building a bridge by replacing the old culvert that falls between the bypass. Owing to safety concern, heavy vehicles have been barred from using it.
"I have been using the bypass since it was opened. Heavy vehicles take the Patripool-Durgadi stretch anytime of the day. A 30 minute journey ends up into a 2-hour crawl during a jam," said Shahid Khan, 30, who travels to Thane for work daily.
Although work on the bypass was initiated in 2011, the project has failed to meet several deadlines. The project first hit a roadblock after cowshed owners, whose properties had been acquired for, approached the Bombay high court seeking a stay on construction until they were rehabilitated.
The project was once again delayed owing to elections Lok Sabha elections in 2014 and KDMC polls in 2015. The project got a push in 2016 after former civic chief E Ravendiran managed to convince the cowshed owners to make do with compensation offered by the civic body.
The bypass is meant to divert heavy vehicles off Shivaji chowk, a commercial hub in Kalyan city and abuzz with
hundreds of shops and market area.
"We have initiated the work on the new bridge and it will at least take three months for completion. We have asked the contractors to complete the work without further delay, as need to divert heavy vehicles of the city roads is urgent," said an MSRDC official. "Construction for the new bridge got delayed owing to tendering process."
Topics
Close