'I wanted to show my sons I don't fear': How Mumbai woman confronted her stalker
Updated on Aug 09, 2017 10:22 AM IST
The fashion designer was stalked by a 36-year-old when she went to a medical store with her two sons at night. He later came to her door and rang the bell at 2am.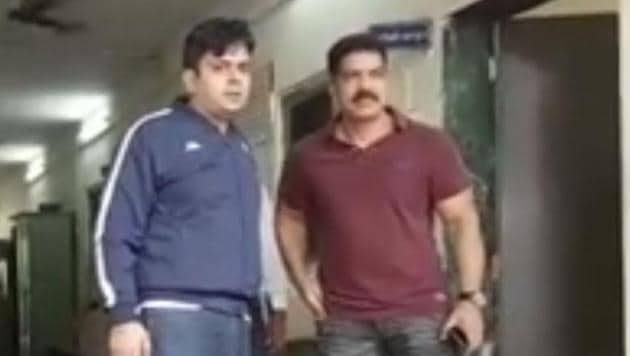 Hindustan Times |
, Mumbai
Manish K Pathak
When a man followed her and her two sons right to their doorstep, fashion designer Aditi Nagpaul had two choices — withdraw in fear or face her stalker, get him arrested and set an example for her sons.
An IT professional residing in Malad, Niteshkumar Sharma allegedly followed Nagpaul to her house, rang her doorbell, and stood outside her building late on Sunday. The 36-year-old was arrested a day later.
Recalling what happened that night, Nagpaul said she only remembers how terrified her sons, aged 6 and 10, were. The family had gone to a medical store on Veera Desai Road when Sharma started following their car, and eventually entered their building.
"I parked my car. On every parking spot, the flat number is written. Sharma noticed my flat number, and when I went into my flat, he made (an) entry on the register and mentioned my flat's number and his car's registration number," Nagpaul said.
Things turned frightful when he turned up outside her door.
"Sharma rang my doorbell and I opened the door. The safety door was locked. Then I found something wrong with the man and started screaming at him. This is when my sons got scared," Nagpaul told Hindustan Times.
The man left the spot only after Nagpaul raised an alarm, police said.
"They (the sons) both were awake and were scared and started crying. I was shouting at the man to force him to leave. I even called the security guard. When I was going down to ensure he had left, my sons (said) 'mamma please do not go down…you would not come back'," Nagpaul recalled.
But she wanted to set an example. "I wanted to show them I do not fear and sit in the house. So I called the security guard and went down."
"I went back in, looked outside the building and saw Sharma sitting in his car coolly. I called my husband who approached the Amboli police station."
In a Facebook post on Monday, Nagpaul wrote: "He dint have any fear in his eyes, a fear of being captured by security cameras, interrogation by security guards or threats of Police! He just hung around coolly in his car long after the incident very comfortable in getting his pictures clicked! (sic)."