'How were 3 lakh rats killed in a week?' Ex-Maharashtra minister Khadse raises a stink
Hindustan Times |
Surendra Gangan
Mar 23, 2018 12:42 AM IST
Questions government over its speed of killing rats in Mantralaya, competence of the agency appointed for doing it, demands inquiry
Smelling a rat in the system, former revenue minister and senior Bharatiya Janata Party (BJP) leader Eknath Khadse on Thursday alleged a "large-scale scam" over the claim that the agency appointed to kill rats at Mantralaya killed 3.19 lakh rats at the state's administrative headquarters in just a week. Khadse questioned the government over its speed of killing the rats, the competence of the agency appointed for killing the rats and demanded an inquiry.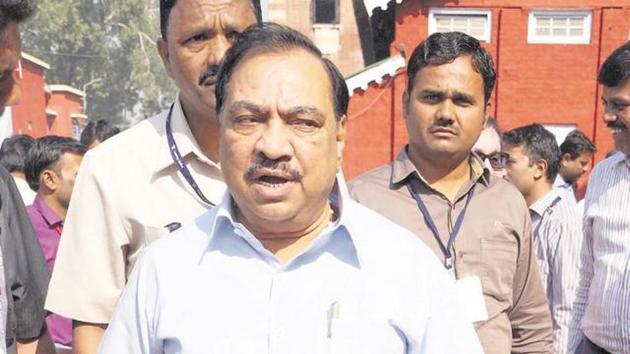 The former minister also alleged that the poisonous chemical drunk by 84-year-old farmer Dharma Patil, who died after attempting the suicide at the Mantralaya in January this year, was part of the poison procured to eliminate the rats at the Mantralaya.
Speaking during the debate on budgetary demands, Khadse said in the lower house on Thursday that the state government-appointed agency killed 3,19,400 rats in a week between May 3 and 10, 2016. The rate of killing rats was 45,628 rats a day and 1,901 rats per hour, he said. Khadse raised questions about the disposal of the killed rats and sought information about the system that was followed for the disposal of rats, which weighed about a truck load or 9,125 tonnes. He also alleged that the agency appointed for killing rats had not taken any permission from the home department or the general administration department, which looks after the administration of the Mantralaya building. Both the departments are headed by chief minister Devendra Fadnavis.
Khadse alleged that the agency appointed for the job had illegally stocked the poisonous chemical in Mantralaya. "Dharma Patil died of drinking the poisonous chemical after Mantralaya administration failed to address his grievances. One wonders where he got the poison if any suspicious chemicals are not allowed inside the building. He got hold of the chemical from the stock procured to kill the rats," he said in the house.
Khadse was quoting information obtained under the Right To Information Act (RTI) by another BJP MLA, Charan Waghmare. Khadse said the work order was issued to eliminate the rats in two months, but the agency had completed the work in just seven days. "The performance of the agency is very impressive as it killed 3.19 lakh rats in seven days when the Brihanmumbai Municipal Corporation could kill [only] 6 lakh rats in two years. There is a large-scale scam is involved in it. It may defame the government and a thorough probe needs to be conducted in the entire episode," he said.
In response to Khadse' allegations, minister of state for general administration department Madan Yarawar said, "The information related to the tender allotted to kill the rats in 2016 will be obtained and tabled in the house in seven days."