I've never advocated suicide bombing, claims Zakir Naik
Controversial Islamic preacher Dr Zakir Naik addressed a press conference via Skype from Medina, at which he dismissed as "misinformation" allegations that he advocated suicide bombings or inspired terrorists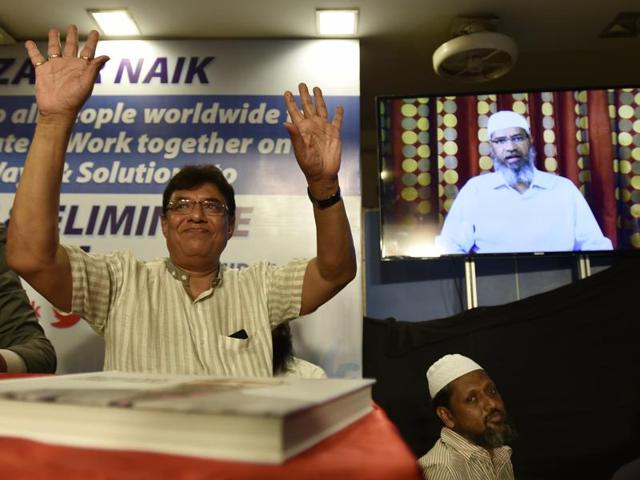 Updated on Jul 16, 2016 12:23 AM IST
Controversial Islamic preacher Dr Zakir Naik on Friday addressed a press conference via Skype from Medina in Saudi Arabia, at which he dismissed as "misinformation" allegations that he advocated suicide bombings or inspired terrorists. He said he has always condemned suicide attacks as they lead to the deaths of innocent people, which is "anti-Islam". However, he went on to say that suicide bombings can be used in some situations.
Naik, the subject of a police inquiry since it was reported that two of the terrorists who took hostages in Dhaka two weeks ago had drawn inspiration from his sermons, began the press conference by offering condolences for the victims of Friday's carnage in Nice, France.
"I did not inspire any terrorist. Suicide bombings targeting innocent people are condemnable," Naik said, adding that his statements on terrorism and suicide bombings had been "doctored and tampered [with]".
However, he soon contradicted himself – sustaining a running theme in many of his sermons and speeches – by saying, "However, [suicide attacks] may be used as a tactic of war to save a country."
The press conference was attended by his supporters and plainclothes policemen, who recorded a video of the event.
Naik said, "I have never advocated suicide bombing. I have always said that killing any innocent human being is the second major sin in Islam. There is no scripture in the world apart from Quran that says if you have killed one human being you have killed the entire humanity, and if you save one human being you have saved the whole nation."
He added, "There are chances that you might have seen a doctored clip. Go to our Youtube channel. I have spoken thousands of times. May be there are 10 sentences where you can take out double meaning. But there are thousands of sentences in my talks which condemn unambiguously that killing innocent human beings is prohibited."
He then claimed that he was being "used for ulterior motives", saying, "What should the media do is and what the agencies should do is [catch] the people who are using Dr Naik's popularity for ulterior motives. Instead you are blaming me."
He also claimed that videos of him praising slain al-Qaeda chief Osama Bin Laden had been doctored to show him in bad light.
When asked about Feroz Deshmukh, an alleged member of his Islamic Research Foundation (IRF) who was arrested in the Aurangabad arms haul case and is out on bail, he said, "Deshmukh did not work with us, he worked in another office located near IRF and hence we were acquainted."
However, he confirmed that Raheel Shaikh, a wanted suspect in the 7/11 train blasts case, was an employee of IRF. Naik claimed he had no knowledge of Shaikh's background. "I never go to check the person's background and if an employee goes rogue, the employer cannot be blamed," he said.
Naik was evasive on certain questions and claimed he didn't know who Zaki-ur-Rehman Lakhvi (a top Lashkar-e-Taiba leader) or Hafiz Saeed (the founder of LeT) are, before adding that he was a "proud Indian". He also refused to speak about the 2008 Mumbai terror attacks, which Saeed allegedly masterminded, saying the questions were irrelevant.
On the finances of IRF and his television channel Peace TV, Naik said, "In case there have been violations of the Foreign Contribution (Regulation) Act, let the agencies tell me. In the past too, a team of officers from Delhi came calling and probed the funding and other aspects of IRF, but found nothing."
When asked why he thinks Peace TV is banned in India, Naik said, "We had applied to the Information and Broadcasting ministry for downlinking rights in 2008. But the ministry did not give us any reason for rejecting our application, and just said that it was confidential." He added, "I am asking the I&B ministry - why have they not given downlinking rights to Peace TV?"
Close Story