Koliwadas not marked in Mumbai DP as government wants our land, allege fisherfolk
The CRZ rules place restrictions on construction along the tideline and shoreline.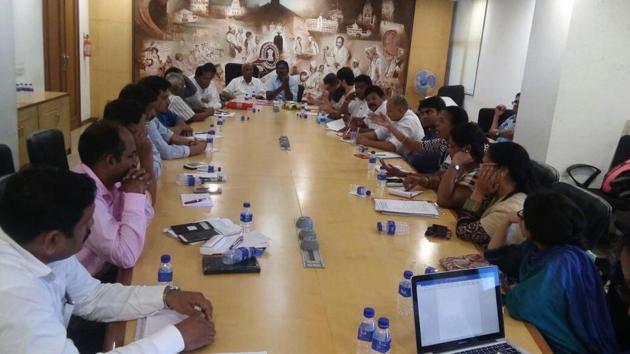 Updated on May 07, 2018 12:00 AM IST
Hindustan Times |
, Mumbai
Yesha Kotak
Residents of Koliwadas across Maharashtra have said that most of the fishermen's villages have not been marked in the Development Plan (DP) as the Centre and the state is trying to facilitate changes in the Coastal Regulation Zone (CRZ) notification, 2011.
The CRZ rules place restrictions on construction along the tideline and shoreline.
"Recently, an amendment was made through a government resolution to the Maharashtra Slum Areas (Improvement, Clearance and Redevelopment) Act, 1971, according to which, the drying area (for fish) that has been termed as 'community economic activity area' can be called a part of the slum. So, at the central, state and city level, there are efforts made to usurp the Koliwada land," said Rajesh Mangela, member of the Koliwada Gaothan Vistaar Samiti.
Narendra Patil, chairperson of the National Fishworkers Forum (NFF) said that at the meeting held on Wednesday, various members suggested that a survey of their areas be conducted by the locals.
"Ever since the CRZ was notified in 2011, we have been told that a demarcation of Koliwadas will be done. Now, when Koliwadas have not been mentioned in the DP, we are being told that the government will look into within 60 days. But, according to the changes being made to the CRZ notification, the demarcation process is being done away with, which is why it is being delayed," Patil said.
He said people living across the coast in the state plan to hold a protest at the central and state level to put forth their issues.
"These changes will only benefit the builder's lobby. They are trying to do away with Koliwadas and coastal areas by tagging them as slums," said Kiran Koli, general secretary of Akhil Maharashtra Macchimar Kriti Samiti.
Ashish Shelar, an MLA from Bandra said that these areas were not shown in the DP because the process for marking these regions is still on.
"There was no demarcation done for gaothans and Koliwadas from 2011, but the current government has taken cognisance of it as a result of which, the demarcation power is delegated to the commissioner of BMC, so that each case can be studied in detail. On the basis of my request a separate DP was announced for these regions," Shelar said. He said the slum areas act is not applicable to gaothans, but did not clarify the same about Koliwadas.
Close Story