Lalbaug flyover develops crack, is shut for 3rd time in 3 months
Updated on Jan 31, 2017 12:16 AM IST
This is the second incident in the last four months when traffic was halted on the crucial connector as the cracks developed.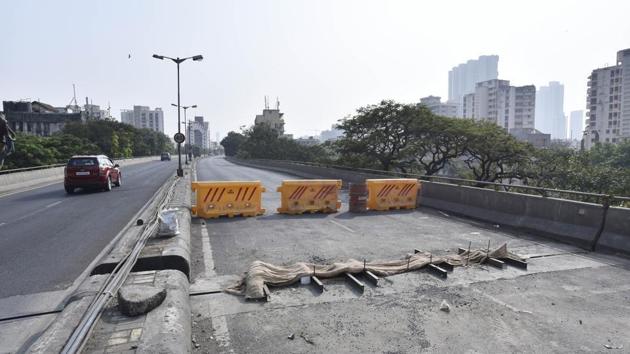 Commuters travelling to south Mumbai had a harrowing time on Monday morning after the Lalbaug flyover was shut for traffic for the third time in the past three months. The rubber seal on an expansion joint of the flyover gave way on Sunday night, exposing a wide gap on the south-bound lane.
Traffic on the north and south-bound lanes was restricted after officials spotted the gap at 7 am. The flyover was opened for only light vehicles at 9.30 am.
"Owing to the gap, heavy vehicles were temporarily not allowed to ply on the stretch. Only light motor vehicles were allowed, a few hours after the gap was discovered," said a traffic official from the Mumbai traffic police headquarters.
A senior civic official from the bridges department of the Brihanmumbai Municipal Corporation (BMC) said, "We inspected the flyover and asked the traffic police to allow vehicles to pass. There is no structural danger to the flyover. We will undertake repairs soon."
The incident has raised doubts about the quality of materials used to construct the six-year old flyover. In November, the BMC had initiated repairs on the flyover twice.
The 2.45-km-long flyover — which stretches from Parel to Byculla — is the second longest in the city, after the JJ flyover. It was opened to traffic in 2011 by the Mumbai Metropolitan Regional Development Authority (MMRDA), which recently handed it over to the BMC. The civic body's standing committee recently passed a proposal to appoint a contractor to maintain the flyover.
The Bombay high court, however, restricted the BMC from undertaking surface repairs on the flyover until it conducts a structural audit.
Senior civic officials said they are expecting a detailed report on the 69 joints across the flyover this week.
Also read
HC raps BMC for issuing orders to resurface Lalbaug flyover without audit
Lalbaug flyover shut because of gaps to be reopened on Friday