Land for Mumbai-Ahmedbad bullet train comes at high price, say farmers
The government has promised development to the regions that will be connected by the bullet train, but there are concerns about what it means for small farmers who will give up their land for the project.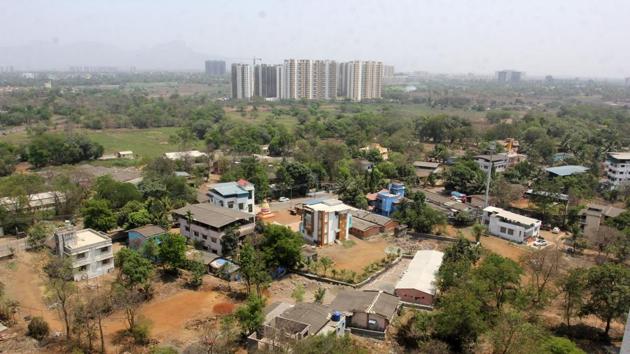 Updated on Apr 30, 2018 05:01 PM IST
After laying the foundation stone for the Mumbai-Ahmedbad high speed rail corridor in September 2017, Prime Minister Narendra Modi described this project as one of the markers of a new India. "The bullet train project will bring speed and employment. It is human-friendly and eco-friendly," he said. Those who farm the lands that will be acquired to build the corridor are not so sure.
The government has promised progress and development to the regions that will be connected by the bullet train, but there are concerns about what it means for small farmers who will give up their land for the project.
Diva is 50km from Mumbai and 25km from Thane. With its proximity to Thane creek, the suburb is largely agricultural and best known for its paddy fields and fishing. For the Mumbai-Ahmedabad bullet train to go according to plan, land must be acquired from 108 villages, including Agasan, Mathardi, Desai, Betawde and Dativali in Diva. Mathardi will be the most affected, with land acquisition plans demanding more than 10 hectares of this village. Agasan, Desai, Betawde and Dativali will lose two hectares each.
On April 7, a group of 200 farmers from Diva met the district collector to talk about land compensation. The farmers said they are ready to sell their land, but they want more money than the government is offering.
Bhagwan Dagdu Mali, 54, and his three brothers own around 12 acres of land in Diva. They grow paddy during monsoon, vegetables in other seasons and have built a small pond for breeding fish. "In monsoon, we grow paddy on our farm while in other season we grow vegetables like okra, eggplant and chillies. We also have a small pond where breed fish," he said, adding that the family cultivates approximately 3,000 kg of rice every year. Mali, who dropped out of school after Class 9, said, "If the land is taken away by the government, we will lose Rs 60,000 to Rs 70,000 a month."
Mali was one of the 200 farmers who on April 7, met the district collector over land compensation. The authorities estimate they will need approximately 13.5m wide space for laying tracks and 4m wide for a service road. Sudam Pardesi sub-divisional officer of the district, said, "We have not yet started the joint measurement survey for the bullet train project. Thus, the land which will be acquired is not finalised. The survey numbers are those which fall on the route of the bullet train. We will begin the joint measurement survey in next 15 to 20 days."
While the district has promised twice the ready reckoner rate, the farmers want four times that amount. Ready reckoner rates in Diva price one square foot at Rs 5000. The government has offered Rs 12,500 per square foot, but the farmers have demanded Rs 20,000 per square foot, which is on par with land rates in Mumbai. The farmers also want a guarantee that one member of every family that loses land to the project will be given a job.
Chintamani Munde, 48, owns seven to eight guntha (about one fourth of an acre). He said, "We have demanded that the compensation be on a par with ready reckoner rates in Mumbai or other urban areas as the rates in Diva are very low." He pointed out that by selling their land, farmers like him are losing their livelihood. "Once the bullet train passes through the village, the demographics of the place will change," said Munde, who is illiterate. "The remaining land will also gradually become useless for farming," he said.
Farmers like Munde and Mali have seen how urbanization impacts them and their land. Today, new housing societies tower over the village's old neighbourhood with sloping roofs and narrow bylanes. These multi-storeyed buildings were constructed in the mid-2000s. After they were built, locals say saline creek water flooded the farm land and affected productivity. Anant Mhatre, 50, said, "We have around 4.5 acres of land behind Lodha Palava Project. Till 2005, we used to produce more than 1,000 kgs of rice." Since the flooding, they produce only 500 kgs of rice, he said.
On April 12, a delegate of Japan International Co-operation Agency (JICA) visited the area to survey the land. The Mhatre family panicked because a marker was left on their farm land. "We know that since it is a government project we will have to give our land, but we should be compensated properly," said 70-year-old Laxmi Mhatre, who is Anant's mother.
With the bullet train expected to open to the public on August 15, 2022, land acquisition has to be completed by December 2018 as per the project's timetable. The authorities claim the process has already begun. "We cannot give a specific time line for the aquisition process as it will take place with the consent of the farmers. We have started conducting meeeting with the project affected at present. Only with the consent and satisfaction of these people we will be going ahead. This can take few months," said Pardesi.
The farmers in Diva are not opposed to handing over their land, but they're acutely aware that they will lose their way of life by doing so. Barkubai Munde, 65, of Agasan village, worried about the future that awaits them. "Our farmland will be taken away by the bullet train project. It will leave us out of job and no home. No one has bothered to ask us. We are ordered to give away everything we have," she said.
Close Story