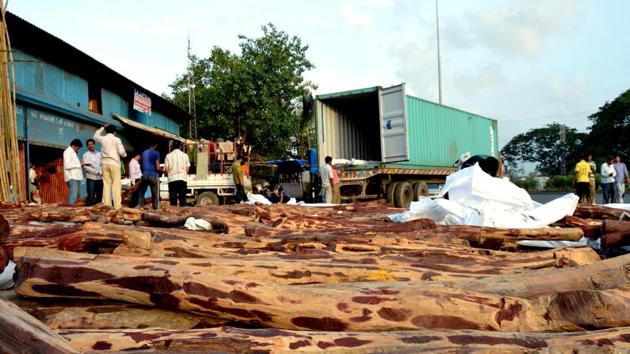 Maharashtra to organise first ever global auction of seized red sandalwood
Thane forest circle will be auctioning 80.46 tonnes of the wood in a 24-hour auction between May 16 and 17.
UPDATED ON MAY 04, 2018 11:42 AM IST
In the last 10 years, the Maharashtra forest department has seized 600 tonnes of red sanders, a kind of red sandalwood. In a first-of-its-kind global auction, the Thane forest circle will be auctioning 80.46 tonnes of the wood in a 24-hour auction between May 16 and 17.
This is the first time Maharashtra will be auctioning wood from the protected species, which according to the forest officials, has an estimated value of ₹1 crore for one tonne of wood in the black market. Red sandalwood (Pterocarpus santalinus) is a hard and fragrant timber and is protected under the Wildlife Protection Act, 1972. There is an international market for the red sanders wood across China, Japan, the Middle East, Sri Lanka, Bhutan and Nepal, where it is used to make decorative and ornamental items, as also oriental musical instruments.
In Maharashtra, smuggling cases have been reported from Thane, Dhule, Nanded, Raigad, Kolhapur, Ratnagiri and Sindhudurg district, said forest officers.
"Red sanders wood is majorly found in southern districts of Andhra Pradesh, which is the main source for the timber. From here it is smuggled across the neighbouring states, coastal cities from many decades," said Rajendra Kadam, chief conservator of forest, Thane forest range.
Majority of the seized 600 tonnes is being stored at Sajgaon depot in Khalapur range of Alibaug forest division.
Read more: Red sanders smuggling racket busted in Mumbai; four people held with logs worth ₹2.85 crore
"After receiving all permissions and completing the documentation with central government, we have been allowed to bring back 80 tonnes of this protected timber into the white market. We have divided the 80 tonnes into eight lots, of about 10-12 tonnes each, under four categories - A to D (see box). Grade A is estimated to cost ₹1 crore and above, while grades B and C are between ₹50 lakh and ₹1 crore. Grade D is the lowest quality wood," said Kadam.
He added that the starting price for the bids is confidential and will only be revealed on the day of the auction to the bidders.
"After the bidding process is completed, the wood will be transported by the bidders themselves, as all documentation for the sale will be provided. They (bidders) will not have any issues for transporting this wood," said Kadam.
Forest officers said while the demand in the black market for the product is still high, smuggling cases across the state had reduced after a major crackdown by the Andhra Pradesh police in various southern states, including the arrest of 84 people in March this year. 20 people who were caught smuggling were killed along the Tamil Nadu-Andhra border in 2015.
"There has been a considerable decline in black market trade since there is more vigilance and awareness among implementing authority," said Kadam.
"However, apart from their use in ayurvedic medicines, there is a belief that red sanders can absorb nuclear radiation, and it can be used in nuclear reactor construction, which further escalates the demand."
Auctioning protected timber will help regulate illegal trade, boost forest conservation: Experts
Experts working in the field of reducing wildlife trade said if the government can destroy the black market for red sanders trade and control it in a systematic way, the country can look at sustainable harvesting in future. "This is high value timber and this process of regulating the trade is the only way to control smuggling. There is marginal decline in red sanders trade in India as compared to the last decade. However, internationally the price of red sanders will crash as Australia is developing 7,000 hectares of red sanders wood, to be traded globally," said Jose Louies, who leads the wildlife trade control and litigation division at Wildlife Trust of India.
"The red sanders trade still stands at a multimillion dollar black market business under an organised crime network. It stands a threat to the country as the network operating under this is very much the same as those involved in wildlife poaching and trade. If this trade can be controlled, it will help curtail illegal wildlife trade as well," said Tito Joseph, programme coordinator, Wildlife Protection Society of India.
Details of auction
Website: www.mstcecommerce.com
Auction time: 12am May 16 to 12am May 17 IST
Quantity: 80.46674 tonnes
Inspection of logs by bidders between: April 23 and May 15 (10am to 5pm) at Sajgaon depot in Khalapur range of Alibaug forest division
Grades of red sanders identified by union environment ministry
The union environment ministry has identified grading rules for red sanders based on guidelines prescribed by the Andhra Pradesh Forest Department for commercial sale:
-Best quality
-Straight or nearly straight bark
-Minimum length of 75 cms
-Top end girth of 36 cms or above.
-The logs are further graded into A, B, C or D (Non-Grade) according to the following characteristics.
A-Grade (Cost estimated to be above Rs1 crore)
* Sound or nearly sound with few or no defects
* Surface gives a ripple reflection
B and C grades range between Rs.50 lakh and Rs 1 crore
B Grade
-Semi-sound A grade logs with more defects
-A grade logs with bends
-Logs with some defects
-Logs with medium long and medium deep wavy grain clearly visible
C-Grade
-Long and shallow wavy grain or straight grain
-Logs sound or semi-sound with some or no defects
-Utilisable A-grade logs with many defects
-Utilisable B-grade logs with many defects
D Grade: Utilisable logs of all grades (depends on highest price)
(Source: Ministry of Environment, Forests and Climate Change)
Close