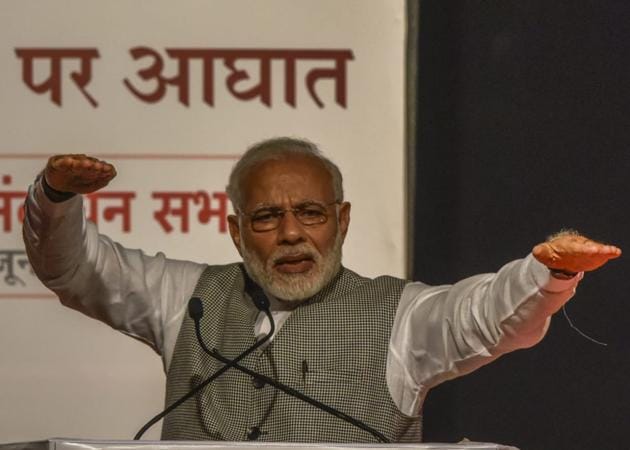 Malavika's Mumbaistan: Power pow-wow
Hindustan Times | By Malavika Sangghvi
, Mumbai
UPDATED ON JUN 28, 2018 12:27 PM IST
Prime Minister Narendra Modi's pow-wow with the leaders of India Inc at Raj Bhavan this Tuesday, is significant, not only for the country's economy and macroeconomics, but also for the stuff that lies between the lines and does not make it to the headlines; after all, a room filled with the likes of Reliance Industries Limited (RIL) chairman Mukesh Ambani, executive vice chairman and managing director of Kotak Mahindra Bank Uday Kotak, executive chairman of Mahindra Group Anand Mahindra and chairman of the Aditya Birla Group, Kumar Mangalam Birla, each a titan in their own sphere, that too, in presence of the country's Prime Minister and his key ministers could afford rich fodder for those interested in reading the subtle and subliminal power dynamics at the very highest echelons of the country.
Invited to Mumbai's Raj Bhavan, which undulates regally on the city's western sea front, to meet the visiting dignitary at 1.10pm, the heads of India Inc are said to have assembled one-by-one, all suited and booted to await Modi's arrival, which was on the dot of two.
Most of the invitees knew each other well, had shared innumerable platforms and podiums together and there was much geniality and bonhomie amongst the leaders, we're told.
As is the practice at these events, the guests were free to seat themselves wherever they pleased, but also, as is the practice at these events, an unwritten power code appeared to be observed with the alpha males amongst the big boys gravitating to the front of the room and the others happily lining up with seats behind, out of respect or modesty.
Sources say that the dress code amongst the business leaders was more or less uniform i.e. conservative Italian or Savile Row-made buttoned down suits worn with a tie, except for Anand Mahindra, progressive, both sartorially as well as in his world view, who unlike the rest had arrived tie-less and open-collared. If this departure from norm had caused him any discomfort, it was obviously dispelled by the arrival of Mukesh Ambani, India's richest and most powerful business leader, who had come attired in a simple crisp white, half-sleeved shirt. Mahindra is said to have grinned broadly on seeing his friend and peer.
"This was a lesson in power-dressing that was not wasted on the gathering," says a source, "With many making a mental note of how, when you're at the very top of the pyramid, dressing down and comfortably, conveys a powerful message of its own."
Hosted under the aegis of the 'Make in India' programme, the theme of the meeting was 'Mobilising Finance for Infrastructure: Innovation and Collaboration' and the 40 or so handpicked business leaders included the likes of the aforesaid business heads along with Adi Godrej, chairman, Godrej group; SN Subrahmanyan, CEO & MD, Larsen & Toubro; managing director of Sun Pharma Dilip Shanghvi; RPG group chairman Harsh Goenka and State Bank of India chairman Rajnish Kumar; Modi had sat facing them on a long table flanked by Finance Minister Piyush Goyal and Maharashtra chief minister Devendra Fadnavis amongst others.
"The PM emphasised that the private sector and the government must become partners and drive economic growth," said a master of the universe, who'd been present, on condition of anonymity.
"He urged the assembled chairmen and CEOs to take the opportunity, to be forthcoming and speak their mind and tell him which sectors were not doing well and which areas he needed to set right, but no one took up the invitation and not a single such criticism was offered."
This refusal to be critical or even open had prompted Modi to remark more than once that he was hearing 'only what they thought he wanted to hear or in other words, an echo chamber of his own Mann Ki Baat'.
Other insights were equally riveting. The delicious, candied ginger sweets that had been thoughtfully placed on the tables before the seated business leaders for instance, had been a big hit and had disappeared faster than you can spell Arvind Subramanian.
It was noticed that there had been a preponderance of business heads speaking in Hindi. "Even those who were not comfortable expressing themselves in the language gave it a go to hold forth," says the source.
That, and the profusion of delicious Gujarati nastha of dishes like fresh and fluffy dhoklas etc. all served in impeccable and old-world style, was one of the distinguishing features of the meet.
"We were hardly expecting to eat at such an important event, but when we were invited to a high tea, Raj Bhavan style, many amongst the guests, especially those who had not had lunch, were delighted," says the source. "During this time, individual business leaders took the opportunity to engage with the PM on a more private and a one-on-one basis."
Whether it was here that the captains of industry brought up concerns about rising crude prices, the widening of the current account deficit and the impact of GST and demonetisation, one will never know. But the overall tone and tenor of the pow-wow had been congenial and sweet.
"Perhaps, you will speak your mind the next time we meet," the PM is said have remarked.
Incidentally, the captains of industry were handed goody bags containing material on some of the PM's pet projects and initiatives, when they departed.
Close