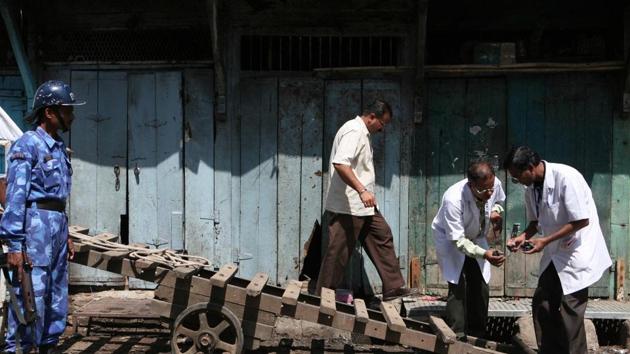 Malegaon blasts: ATS officials say suspended cop's claim false, revengeful
Police officials working with the Maharashtra anti-terrorism squad (ATS) in 2008 expressed surprise over allegations made by suspended police inspector Mehboob Mujawar
Hindustan Times | By Manish K Pathak
, Mumbai
PUBLISHED ON DEC 30, 2016 11:41 PM IST
Police officials working with the Maharashtra anti-terrorism squad (ATS) in 2008 expressed surprise over allegations made by suspended police inspector Mehboob Mujawar, who has claimed two wanted accused in Malegaon 2008 blasts were killed by ATS.
A senior officer, who has served several years in the ATS, said, "Ramchandra Kalsangra is very much alive and ATS is trying to trace him but not getting his current location. Mujawar's allegation is false,"
While another official said, "Mujawar's claim is completely baseless. He has been facing departmental inquiry and suspension due to his mistake and is not getting reinstated. Now, as he wants to settle score, he is making such allegations."
Mujawar submitted a written application in Solapur court on August 19, 2016 that two accused, Ramchandra Kalsangra and Sandeep Dangre, who are shown wanted on paper in Malegaon blasts case were killed by ATS on November 28, 2008 (the day of Mumbai terror attack).
A former IPS officer, who has worked with ATS, said both the accused are still wanted in the case. "I have never heard Mehboob Mujawar's name before". This could well be true as Mujawar was never formally attached to ATS and he was just taken for a few months to assist ATS in the probe as he claimed he had information on the missing accused.
"Mehboob was posted in another district but soon after Malegaon blast, he was attached with one team which was investigating the blast case. But after a year, I heard that he was arrested in arms act case after he threatened someone. His claims are completely false and he is making allegations for his benefit," said senior officer who has worked in ATS for several years.
Read
Malegaon blast: Ex-cop claims 'missing' accused were killed by ATS 8 yrs ago
Why not probe terror attacks against Muslims: Owaisi after Bhatkal verdict
Close