Maratha protests linked to agrarian distress, frustration among youth: Sharad Pawar
NCP president Sharad Pawar said that according to a study, 42% of the total farmers who committed suicides in Maharashtra were Marathas.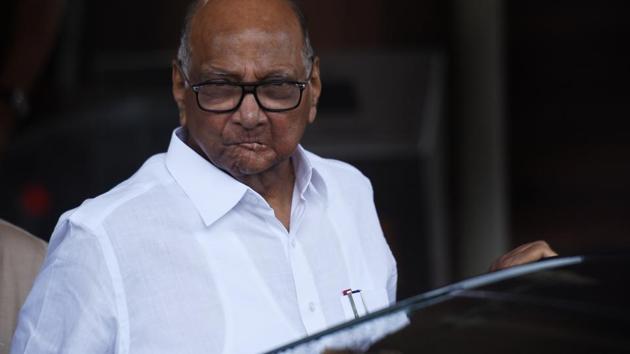 Published on Aug 10, 2018 12:01 AM IST
Hindustan Times, New Delhi |
Vinod Sharma and Prashant Jha
With Maratha protests resuming across Maharashtra, Nationalist Congress Party (NCP) president and veteran Maratha politician Sharad Pawar has linked the agitation to a range of factors, from rising frustration among the youth and agrarian distress to the Devendra Fadnavis government's failure to keep its promises.
In a recent interview, Pawar laid out the background to the protests.
"My observation in the last two years is that farmer suicides have started again and numbers are worrisome. Gokhale Institute in Pune did a study and submitted the report to the Government of Maharashtra on the proportion of Marathas in farmer suicides in the state... They constitute 42% of the total suicides."
It was in this backdrop that Marathas, he said, had been demanding government job and university seat reservations. "There have been 58 places where there were over 50,000 protestors; these were all peaceful. They showed how to agitate peacefully," he said.
Pawar claimed that Fadnavis had announced he would give reservation to the community but this commitment had not been implemented. "After the peaceful demonstrations, people had expectations. So the frustration has grown among the younger generation. Today, there is no leader, no party leading the movement."
Asked if it was right for communities like the Marathas or Jats or Patidars to seek reservation despite enjoying political dominance, Pawar said, "It is true that Marathas are also MLAs, ministers, but they are five or ten or 10% (of the population)... A few individuals may be in a comparatively better situation but a majority is facing major issues".
"The agitation started from Aurangabad, which is the headquarters of Marathwada. The irrigated land there is much lesser. They depend on the uncertainty of nature and they have to often face drought. Their landholdings are small. A large percentage of students have to leave college because of financial crisis. So, all these issues get combined," he added.
Political analyst and a professor at the Mumbai University, Surendra Jondhale, said: "The agrarian, rural distress and unemployment has largely triggered the Maratha unrest. The unviability of agriculture in rain-fed areas like Marathwada has forced younger generation to look for alternate careers and job opportunities, in a very competitive market, where they feel left out. But, there is also an element of social and political isolation because the benefits of proximity to power that Marathas enjoyed hasn't really trickled to the entire community."
(With inputs from Ketaki Ghoge in Mumbai)
Close Story