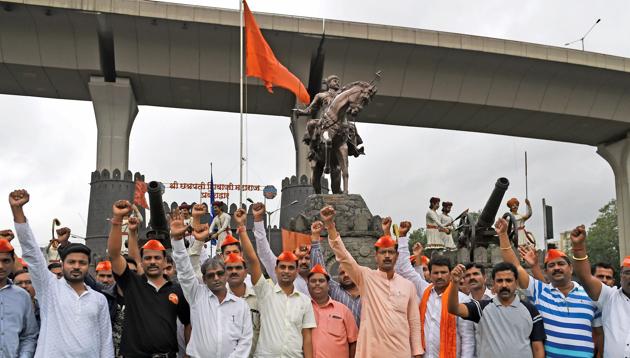 Maratha quota stir: Protesters block roads, clash in several parts of Maharashtra
One of the groups of the Maratha Kranti Morcha (MMK) called for a sit-in protest outside the suburban collector's office at Bandra and another faction announced a shutdown demanding 16% reservation for the community.
UPDATED ON AUG 09, 2018 05:47 PM IST
Maratha protesters blocked roads and burnt tyres in some parts of Maharashtra on Thursday as part of their statewide shutdown to press for their demands for reservation, police said, despite an appeal from the community's leaders for peace.
They stopped buses and other vehicles on roads in Latur, Jalna, Solapur, and Buldhana districts and blocked the Madha-Shetfal road, which connects to National Highway No 9 (Pune-Hyderabad) in Solapur, officials said.
They also blocked roads from midnight and disrupted traffic in Latur. Some agitators burnt tyres on roads in Jalna and Ahmednagar districts, a police official said.
Two groups of protesters clashed at Kranti Chowk in Aurangabad district when someone allegedly shouted slogans against Shiv Sena chief Uddhav Thackeray, a police official said.
A group led by Sena district chief Ambadas Danve objected to the slogans, following which members of both the sides beat up each other, the official added.
"One person was injured in the incident but we brought the situation under control. We separated the two groups and dispersed their members," the official said.
One of the groups of the Maratha Kranti Morcha (MMK) called for a sit-in protest outside the suburban collector's office at Bandra and another faction announced a shutdown demanding 16% reservation for the community.
The call for the shutdown was given by Sakal Maratha Samaj, an umbrella body of Maratha groups, but excluded Navi Mumbai, which had witnessed large-scale violence last month during protests by the community.
Authorities had on Wednesday ordered the closure of schools and colleges in some cities, including Pune, fearing violence.
Agitators attacked the gate and a cabin at the Pune district collector's office and damaged some light bulbs in the premises, a police official said. Pune's superintendent of police Sandip Patil said internet services were suspended in seven rural tehsils of the district to prevent rumour-mongering.
Protesters held a sit-in outside the residence of Nationalist Congress Party (NCP) chief Sharad Pawar in Baramati tehsil of Pune and were joined by his nephew Ajit Pawar in support of the Maratha community's demand for reservation in government jobs and education.
Shiv Sena MLA from Kolhapur, Prakash Abitkar, who was denied permission to enter the Vidhan Bhavan in Mumbai in support of the Maratha community's quota demand, sat outside the gate of the legislature complex in protest.
The public transport buses and local trains were running on schedule in the city. Maharashtra State Road Transport Corporation has, however, kept its intercity route buses off roads fearing vandalism as during the Maratha agitation.
The state-run public transport services have been partially suspended in Osmanabad and Buldhana districts to avoid any damage as protesters had targeted buses in the previous round of agitation last month.
Several domestic airlines, including Indigo, Vistara and Jet Airways, issued advisories to passengers advising them to factor in extra time while travelling to and from the airport. They have also been advised to check departure timings before starting for the airport.
Though Navi Mumbai has been excluded from the bandh, the Agriculture Produce Market Committee (APMC) at Turbhe in the densely populated township decided to remain shut.
Security was stepped up in Navi Mumbai with the deployment of city police personnel along with a company of the Rapid Action Force and the Reserve Police Force.
Heavy security was deployed on the Mumbai-Pune Expressway and Mumbai-Goa Highway near Kalamboli, a police official said.
Supply of vegetables was affected in some parts of the state, including Mumbai, even though Maratha groups excluded essential services from the purview of the shutdown, market committee's officials said.
A vegetable seller in Mumbai's Dadar area said the shutdown was not forced on them, but they had voluntarily shut down business for the day in support of the cause.
Protesters took out silent marches in Mumbai's Ghatkopar suburb and in the neighbouring Thane district.
A traffic department official said the number of vehicles on National Highway No 4 (Mumbai-Pune) and on the Mumbai-Pune Expressway was significantly less compared to other days.
All petrol pumps and vegetable markets in Satara were closed while all state transport buses were kept parked at the central bus stand.
The shutdown was being organised despite chief minister Devendra Fadnavis' assurance that his government was working on providing reservation to Marathas in government jobs and educational institutes, one that is legally sustainable.
Fadnavis had sought time till November to take steps with regard to the quota.
Marathas, a politically influential community that constitutes around 30% of the state's population, have been demanding a 16% reservation. The community's members had earlier taken out silent marches across the state to highlight their demands, prominent among them being that of reservation.
The agitation, however, turned violent after a 27-year-old protester jumped to his death in Godavari River near Aurangabad on July 23. A number of places, especially Koparkhairane and Kalamboli in Navi Mumbai, had witnessed violence during the Maratha quota stir late last month.
Close