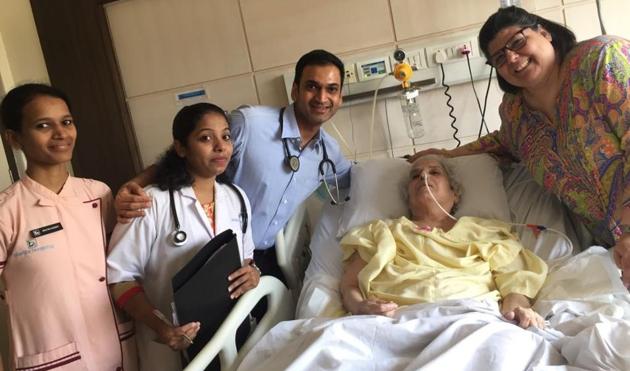 Medicine to control cholesterol lands 80-year-old in Mumbai hospital with kidney failure
Within a month of taking the medication, Dinoo Irani stopped passing urine; she spent close to a month in Bhatia hospital
Hindustan Times | By Sadaguru Pandit
, Mumbai
UPDATED ON APR 02, 2018 11:02 AM IST
It took 28 days for the doctors at Bhatia hospital to revive 80-year-old Dinoo Irani, who slipped into a semi-comatose state and suffered kidney and partial heart failure after consuming medicines for reducing cholesterol.
Irani had undergone an angiography at a south Mumbai hospital in February after which she was put on Rosuvastatin 40mg — a cholesterol-reducing statin used for treating cardiovascular ailments.
But within a month of taking the medication, Irani stopped passing urine. Her family then contacted Dr Samrat Shah, consultant internist and metabolic specialist, at Bhatia Hospital.
"We live in Canada and rushed back after being informed that she wasn't passing urine and was unable to stand on her own. We sought Dr Shah's opinion. He was my father's physician for seven years and knows about my mother's health issues as well," said Feruza Irani, Dinoo's daughter.
Initial tests revealed Dinoo's creatinine, a marker of kidney functions, had jumped to 9mg/dL from a healthy 1.1mg/dL. The normal range for women is 0.7-1.3mg/dL. Dinoo was immediately put on dialysis after being diagnosed with end-stage kidney failure.
"Upon discovering that she was taking a heavy dose of statin, we performed a creatine phosphokinase (CPK) test to examine muscle injuries. High CPK levels revealed her muscles were being excreted into the urine and her kidneys were not able to flush out the toxins," said Shah.
During her 17-day stay in the ICU, Dinoo also contracted blood infections that aggravated her existing medical complications. "The treating nephrologists had lost all hope, but her blood pressure was holding up. I thought with change in medication, multidisciplinary treatment and positive approach of the family, she may pull through," Shah added.
Finally, Dinoo was discharged on Sunday. "She is out of the drowsy state and is communicating as well. Her creatinine levels have dropped and kidney functions have improved," said Feruza.
Dr Shah warned about the hazards of prescribing statins without studying medical history or performing relevant tests on patients.
He added, "Majority of medical emergencies in senior citizens result from wrong medication. Prescribing statins on the basis of creatinine test is not enough because they give a vague idea of kidney functions. If we conduct an epidermal growth factor receptor (EGFR) to study kidney's condition and its role in renal physiology, along with CPK, it gives us a better idea of whether a patient will be able to sustain high dose or not."
Close