Metro, railway, PWD works will cause flooding in 17 areas in Mumbai this year: BMC
Hindustan Times |
, Mumbai
Geetanjali Gurlhosur
Apr 27, 2018 03:20 PM IST
BMC has identified a total of 225 flood-prone areas, including 60 chronic ones that flood annually
As a precautionary measure, the Mumbai civic body identifies flood-prone spots every year before monsoon. This year, in addition to the annual numbers, the Brihanmumbai Municipal Corporation (BMC) has identified 17 spots where flooding is likely due to ongoing civil, railway and metro works.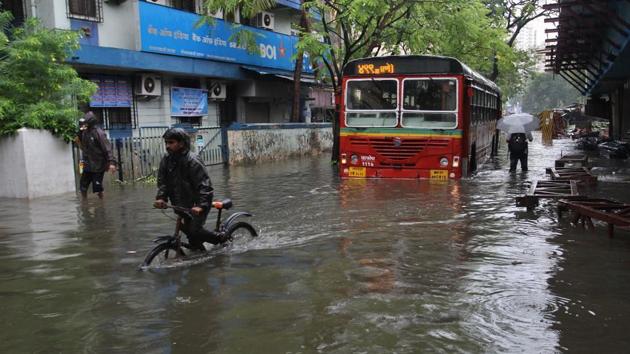 BMC has identified a total of 225 flood-prone areas, including 60 chronic ones that flood annually, in the city. Civic officials said that identifying such spots help monitor them before and during rains.
Of the 225, 17 areas are currently congested due to works under the public works department (PWD), Mumbai Metropolitan Region Development Authority (MMRDA), the railway authorities etc. "BMC has intimated the different authorities to prevent flooding and provide relief during rains in these areas. BMC is responsible only for the other 208 flooding spots," admitted an official of BMC's storm water drains department.
According to data procured from BMC, Western suburbs have the most flood-prone spots due to such works, specifically in Bandra (East). Other areas where such spots have been located are Byculla, Chembur and Mulund, Ghatkopar, Goregaon West and Borivli (West).
Last year in August, Sion, Kings Circle, Kurla, Bandra, Mahim, Khar, Dadar and Matunga were severely flooded. While these areas flood every year, BMC's data also revealed that 43 areas had flooded owing to local avoidable problems such as faulty dewatering pumps.
Every year, BMC deploys one or more dewatering pumps at each of the identified flooding spots. Officials said that 279 pumps have been hired apart from civic-owned 19 pumps.