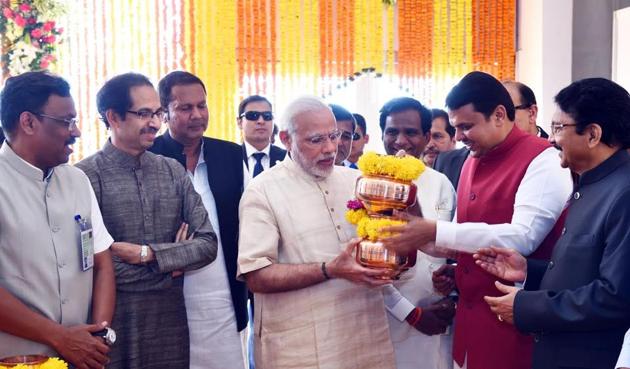 Modi in Mumbai: After jalpoojan, PM justifies
₹

3,600-crore 'iconic' Shivaji memorial project

Prime Minister Narendra Modi, riding a hovercraft on Saturday afternoon to the site of the Shivaji memorial in the Arabian Sea, performed a jalpoojan ceremony by pouring a mixture of water from Maharashtra's main rivers and soil and stones from Shivaji's forts into the sea

UPDATED ON DEC 25, 2016 01:08 AM IST
Prime Minister Narendra Modi, riding a hovercraft on Saturday afternoon to the site of the Shivaji memorial in the Arabian Sea, performed a jalpoojan ceremony by pouring a mixture of water from Maharashtra's main rivers and soil and stones from Shivaji's forts into the sea.
The ceremony, which took place at 2.56pm, officially marks the launch of construction of the much-politicised project, decades after it was first conceived.
Chief minister Devendra Fadnavis, governor Ch Vidyasagar Rao and Shiv Sena chief Uddhav Thackeray, who travelled with the PM in an Indian Coast Guard hovercraft, also poured the materials into the water. Chhatrapati Shivaji's descendants, Sambhaji Raje and Udayanraje Bhosale, were part of the ceremony.
Modi boarded the hovercraft from a makeshift jetty at Girgaum Chowpatty, after accepting the pots of water, soil and stones brought to Mumbai from places significant to the Maratha king's life, from the chief minister at Rajbhavan.
The state's plan for the statue takes its estimated to cost to around Rs3,600 crore. After the ceremony, speaking at a rally at the Bandra Kurla Complex, Modi sought to justify his party's decision.
"Iconic projects become the identity of a nation. For many, the Statue of Liberty is America's identity,"the PM said.
For the BJP, starting the construction of the memorial may be a political statement to the dominant Maratha community — that only this party can meet the community's demands. The Marathas have been protesting for reservation in government jobs and education. But the project as well as Saturday's function has seen opposition from several quarters.
The Shiv Sena and other smaller parties on Friday claimed the BJP tried to hijack a programme, when soil from Shivaji's forts and water from rivers across Maharashtra were brought to Mumbai.
Fisherfolk in Mumbai have objected to the project as they fear traditional routes for their fishing boats and breeding grounds of fish would be affected.
Citizens have questioned the need to spend Rs3,600 crore on the project, when several of the state's welfare schemes are struggling for want of funds.
Fadnavis, however, had made it clear on Friday that the government will go ahead with the project, despite opposition from various quarters.
READ MORE
Close