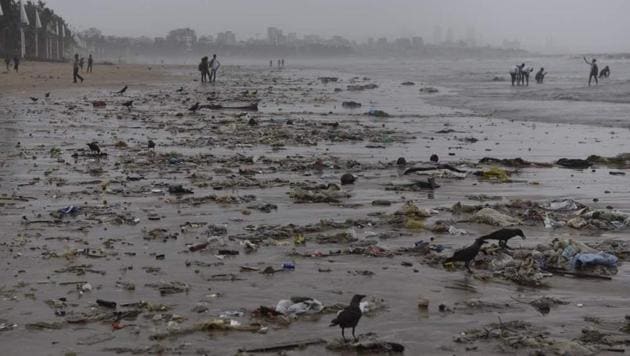 More than 120 tons of trash washes ashore Mumbai's Juhu beach over past 3 days: BMC
Mumbai city news: Untreated sewage and garbage being discharged from the creeks got washed ashore owing to the heavy downpour.
UPDATED ON JUN 28, 2017 11:18 PM IST
Heavy downpour in the city over the past three days washed ashore 1,20,000kg or 120 tons of trash onto Juhu beach, owing to untreated sewage and garbage being discharge from creeks.
Civic body officials from K (West) ward said that over 40,000kg of garbage, mostly comprising plastic, was washed ashore on the beach on Sunday, Monday and Tuesday.
"All wards along the city's coastline are facing a serious garbage crisis as slums that dump their trash over the year lands up on the beaches during the monsoon season," said Prashant Gaikwad, ward officer. "We have deployed two manual beach cleaning machines, two excavator machines and 40 labourers at the site for cleaning activity."
He added that anticipating such a situation, Brihanmumbai Municipal Corporation's (BMC) solid waste management department had installed screens (nets) to trap plastics and microplastics at all pumping stations in the city. "This has helped us a lot this year. However, we are still clearing two truckloads of trash every day from Juhu and Versova. The trash over the last few days has been extremely high."
Residents from Juhu said that the garbage could lead to health problems in the area. "Apart from plastic, the sea has been throwing trash that includes needles, syringes and many other discards from hospitals. This poses a serious health concern to citizens taking morning walks or jogs at the beach," said Hansel D'Souza, activist and president, Juhu Citizens Welfare Group. "The civic body has been spending Rs2,600 crore from the tax payers' money for beach cleanups but it has yielded zero results."
After conducting a detailed survey of the source of the trash, D'souza identified seven areas – Mora village, Khar Danda, Kapas wadi, Prem Nagar, Nehru Nagar slums, Guzdarbund slums and Juhu Koliwada - from where the sewage enters the sea and lands up on the beach.
Officials from the Maharashtra Maritime Board (MMB) said that they will be assisting BMC in the cleanup. "Under our Nirmal Sagar Tat Abhiayaan, we will provide facilities to BMC to cleanup plastic strewn beaches under the Versova cleanup model. However, if the civic body can just take the cleanup a step further by removing trash through the year from creeks and marine outfalls, the problem will seize to exist," said Atul Patne, chief executive officer, MMB.
Beach cleanup crusader Afroz Shah who has removed 5.6 million kg trash from Versova along with residents over 90 weeks said that only a people's movement can change the current circumstances. "Clearing trash that is stuck to the sand for years is extremely difficult. Citizens need to conduct regular beach cleanup drives by hiring their own machines and equipment so that trash is regularly pulled out and a lot of sand is not lost," he said.
Close