MP cop fat-shamed by Shobhaa De sheds 15kg in a month, resumes duty
Updated on Apr 12, 2017 05:14 PM IST
Daulatram Jogawat, the Neemuch based cop who was fat-shamed by author Shobhaa De, has lost about 15kg in a month. He underwent a weight-loss surgery last month in Mumbai and resumed his duty three days ago.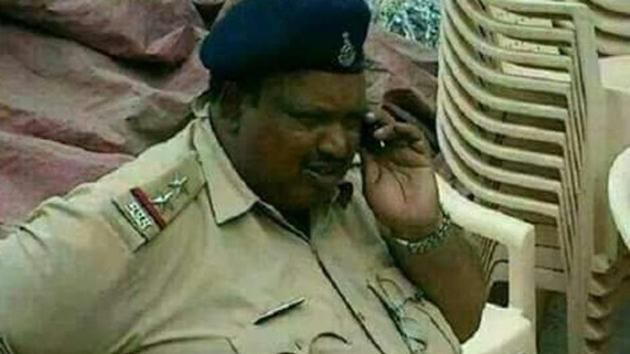 Hindustan Times |
, Mumbai
Sadaguru Pandit
Daulatram Jogawat, the Madhya Pradesh police officer who underwent a bariatric surgery in Mumbai after being fat-shamed by author Shobhaa De, has lost about 15kg in a month and resumed duty 3 days ago.
"I am feeling very fit and following the instructions for diet and an hour long walk, as given by the doctors. Even my overall health has improved as I've started losing weight," Jogawat, who weighed about 182kg before the surgery, said.
Dr Muffazal Lakdawala, who performed a Laparoscopic Banded Roux en Y Gastric Bypass surgery on the Neemuch-based police inspector at Saifee Hospital on a pro bono basis, said he expects Jogawat to hit the 100kg mark within a year.
"The recovery is spectacular. His diabetes is under control and weight loss is also as expected. We assume he will lose 15 more kg in next one or two months and in a year lose about 80kg overall," Dr Lakdawala said.
Doctors said uncontrolled diabetes, hypertension, sleep apnea, lymphedema and other ailments that Jogawat is suffering from might go away in the next few months.
"I feel much lighter now. I think in a month or so, I'll lose more fat and the difference will be apparent," Jogawat said.
De had posted a photograph of Jogawat with the caption, 'heavy police bandobast in Mumbai today' in February and faced a heavy backlash by Twitter users.
After being fat-shamed, Jogawat had pointed out that it was due to an insulin imbalance brought about by a gall bladder operation that he was fat and not because of overeating.
Help started pouring in for Jogawat from all directions after De's tweet. At least 3 or 4 centres across the country, including Dr Lakdawala's Centre for Obesity and Digestive Surgery, said they will perform the surgery free of cost.
After an initial investigation, it was found out Jogawat did not have any hormonal or genetic link for his obesity and was hence recommended a bariatric surgery. Within two weeks of his picture doing the rounds on social media, Jogawat underwent a surgery in Mumbai and is now recovering.
READ
Madhya Pradesh cop fat-shamed by Shobhaa De thanks her for tweet
Fat-shamed by Shobhaa De, cop Daulat Ram Jogawat is a scared man now
Close Story
Personalise your news feed. Follow trending topics