Mum-Nagpur Expressway: CM Fadnavis' dream project in land-grab controversy
Large-scale purchases were made eyeing lucrative compensation package offered by the government and also the increase in land prices once the project is ready, it is alleged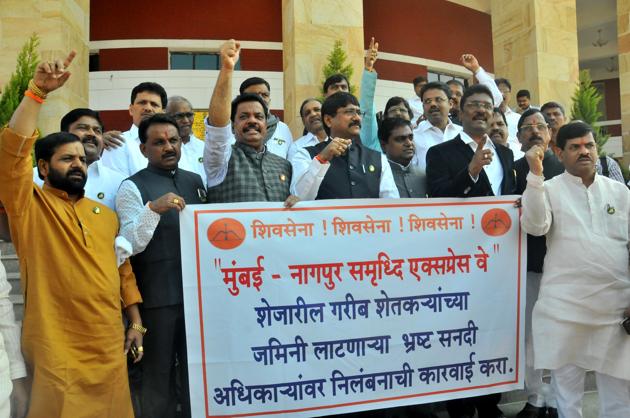 Updated on Dec 17, 2016 01:26 AM IST
Chief Minister Devendra Fadnavis' dream project, the Mumbai-Nagpur Super Communication Expressway, is in controversy following allegations of land purchase from farmers by several serving and retired bureaucrats along the proposed road.
Large-scale purchases were made eyeing lucrative compensation package offered by the government and also the increase in land prices once the project is ready, it is alleged. The farmers were not aware of the compensation package when the land was being bought. Further, they were also not aware of the cost the land will fetch after the project is ready. As such, those privy to the information about the project bought land on a large scale, Shetkari Sangharsh Samiti—an outfit of farmers in Thane district-- and Shiv Sena legislators have alleged.
The Sena legislators staged protests outside the assembly on Friday demanding strict action against those who have been misusing their official position for personal gains.
Fadnavis has assured a probe into the allegations after the issue was raised in the Assembly by Nationalist Congress Party legislator Jayant Patil.
Vinayak Pawar, president of the Shetkari Sangharsh Samiti, which represents farmers in Shahpur in Thane district, whose land is being acquired for the expressway, said he has written to Fadnavis on December 8, pointing out how several serving and retired officers of the government who have bought land in the vicinity of the proposed expressway. The names include relatives of some key bureaucrats and retired chief secretaries of Maharashtra.
Shiv Sena legislator Pratap Sarnaik, too, has written to the CM, seeking a probe by the anti-corruption bureau and income tax authorities. "Eyeing the lucrative compensation package being offered by the government, some people privy to the information bought huge tracts of land from farmers for peanuts," alleged Sarnaik.
The project, titled Nagpur-Mumbai Super Communication Expressway, will cover a distance of 710-km and connect 10 districts including regional headquarters of four regions. According to the state government, the expressway will reduce the travel time between Mumbai and Nagpur to about ten hours from the current 16 to 18 hours. It will have 22 nodes, or prosperity hubs including agro-industry hubs, truck terminuses, manufacturing areas and knowledge city. Fadnavis aims to complete the expressway by October 2019.
The Maharashtra State Road Development Corporation (MSRDC), the implementing agency for the project, will need 8,520 hectares in 10 districts for the project. The government will give land owners the choice of either land acquisition through land pooling, where owners will receive compensation as well as a portion of the developed land, so they can avail of benefits of price appreciation brought by the expressway, or through a one-time compensation as per the Land Acquisition Act.
Close Story