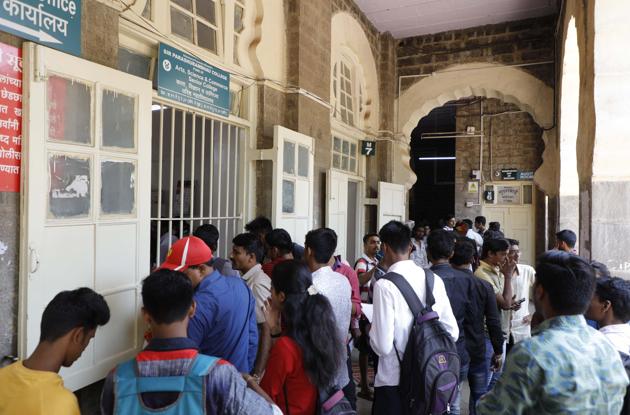 Mumbai degree colleges see 17% dip in applications
Number of applications dropped from 9.9 lakh for the last academic year to 8.55 lakh this year
UPDATED ON JUN 23, 2018 04:11 PM IST
Mumbai
With the admission process for undergraduate courses at the University of Mumbai (MU) ending on Monday, the degree colleges affiliated to the varsity received applications from 2.75 lakh students. This is 57,000 fewer applicants compared to last year.
The total number of applications also dropped from 9.9 lakh in 2017-18 to 8.55 lakh this year. Almost all courses have witnessed fewer applications this year.
The number of applications exceeds applicants as students are allowed to apply for multiple course combinations.
While BCom continues to be the most popular course, the number of students applying for it dropped by around 54,000. Bachelor of Mass Media (BMM) with 56,591 applications has trumped BA (55,662 applications) as the most sought-after course in arts.
Last year, both courses had received more than 66,000 applications. BSc saw the highest number of applications at 71,330 in the science stream. Last year, 5,000 more students had applied for the course.
"Last year, we extended the admission schedule till June 21, allowing more students to apply," said a university official.
This year, the number of Class 12 students clearing higher secondary certificate (HSC) examination also slid in Mumbai regions as well as across the state. In Mumbai region, 2.79 lakh students, around 10,000 fewer than last year, passed HSC examination. In Maharashtra, the number of students clearing the test dropped from 13.09 lakh to 12.76 lakh.
According to Parag Thakker, principal of HR College, the most plausible explanation for the dip is a probable drop in the number of students from outside the state seeking admission to MU.
"A large chunk of students from outside Maharashtra, who apply to MU affiliated colleges, may have given it a miss," he said.
Thakker said that many students are opting for job-oriented courses, in place of traditional arts, science and commerce courses. These courses have a separate centralised admission process.
"There's a jump in number of students taking the common entrance test (CET) for five-year LLB course. Besides, many students aspire to pursue courses such as bachelor of business administration (BBA) from autonomous universities," he said.
Data from Directorate of Higher Education (DHE) shows that this year, 16,581 candidates registered for five-year LLB CET. The CET for undergraduate engineering and pharmacy courses also witnessed 37,000 more applicants this year.
Close