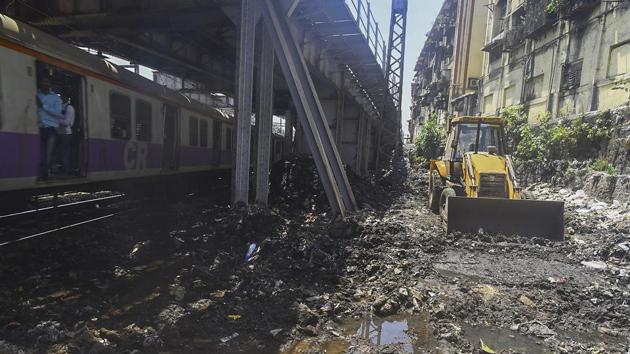 Mumbai's railway tracks get a clean sweep, but will they stay clean?
Trash, equivalent to 6,500 dumper trucks, has been removed from the Central Railway's main and harbour lines over the past six months
PUBLISHED ON APR 04, 2018 12:01 AM IST
The city's incredibly dirty railway tracks have been getting a long-overdue cleaning.
For a while now, commuters travelling on the Central Railway's (CR) main and harbour lines have been seeing excavators along the tracks removing garbage that has been lying on the sides of railway lines for years.
In the past six months, the CR has cleared 50,000 cubic metres of trash between Chhatrapati Shivaji Maharaj Terminus (CSMT) and Kalyan, a 53km route. Similarly, on the harbour line, 30,000 cubic metres of garbage have been removed along the 21km stretch between CSMT and Mankhurd station.
Thrice a week, this garbage is loaded on to trains that CR officials refer to as the "muck special", deployed exclusively to cart the trash and debris away from the city.
From October till date, 6,500 truckloads of garbage have been taken away.
To prevent the tracks and areas around them from getting filthy again, CR has also been constructing metal and concrete barricades along tracks so that people who live in the area can't toss their waste on to the railway property.
"We have successfully removed most of the garbage from CSMT, Masjid Bunder, and other stations towards the Thane end of central line. Also, work is in progress to clear trash from Kurla, Sandhurst Road, King's Circle and Mahim stations, as well as a few stations on the harbour line," said Sunil Udasi, chief public relations officer, CR. "We are removing trash by deploying railway wagons and rakes of local trains. When railway operations are shut down [between 1.30am and 4.30am], we use the excavator to load the trash on to these wagons. Wherever the machine cannot reach, the bags are being filled manually and loaded on the train."
You can see thousands of trash-filled bags piled up neatly along rail lines for disposal.
For construction debris, the CR has identified sites along both the central and harbour lines, where muck is dumped regularly as a filling activity, said Udasi. "For garbage, we are using some spots in Vashi and near Parsik tunnel close to Thane. We collect the waste there, segregate it and send it to the municipal corporation dumping ground."
Citizens' groups that have been trying to draw the railway's attention to the stinking, dirty suburban rail corridors are happy to see that their efforts have made a difference. Dharmesh Barai from the group Environment Life organised a Twitter campaign last May to draw the railway's attention, and identified 10 of the dirtiest spots across the city. In December, CR finally reacted by announcing that it had started a full-fledged clean-up drive, and that it had cleared 35,000 m3 of trash from October to December.
Since February 2017, HT has been reporting consistently on the problems commuters face because of all the filth strewn along railway lines.
Commuters are all praise for the clean-up programme, but say the situation will improve further if the state government and the civic bodies concerned get their act together. "Unauthorised structures at various spots along all three railway lines are the main reason for this filth. It is the responsibility of the state government and the Brihanmumbai Municipal Corporation (BMC) to remove such structures. Residents from these illegal slums and other encroachments dump their garbage on the tracks. The BMC has failed in this regard," said Lata Argade, vice-president, Suburban Railway Passengers Association. "Railway officials get only a few hours, between 1.30am and 4.30am, to clean the tracks. To have removed 6,500 truckloads is commendable."
People also need to do their bit, Argade pointed out. "Apart from blaming any authority, it is our responsibility as citizens to ensure a clean environment for travel, and by ignoring this, we are putting our own lives in danger."
To maintain this cleanliness and ensure that it does not become a problem again, both commuters and people living near the tracks have to stop littering, railway officials said. "We are devoted to ensuring a clean atmosphere along railway tracks, the station area and its vicinity, for which, we earnestly request citizens to be more proactive and sensitive," Udasi said.
"Public awareness has to be increased, not only by the railways but also by civic authorities. There should be a proper solid waste management system for slums adjoining railway tracks. Also, adequate drainage systems need to be built so that sewage water does not enter the tracks," he added.
Over the past five years, CR has constructed barricades or walls along 39km of tracks on the main and harbour lines. The latest stretches to be barricaded are along Dharavi – between Sion and Matunga stations - and a 200-metre stretch at Sandhurst Road. "This is to ensure that residents stop dumping garbage on tracks and commuters stop crossing tracks," Udasi said.
Citizens are sceptical about the barricades solving the garbage problem. Barai pointed out that in areas where barricades have been constructed, the BMC must ensure that slum settlements or even permanent houses don't build extensions higher than the barricades. "Otherwise, this exercise will be futile," he said.
Some commuters believe that the need of the hour is to form committees at zonal levels. "From absolutely zero effort 20 years ago to developing a strategy to remove trash, CR has come a long way. But if trash is removed, more will be dumped at the same spot," said Subhash Gupta, president of Rail Yatri Sangh, Mumbai, and member of National Railway Users Consultative Committee. He suggests that committee be formed, comprising BMC zonal officers, one railway official, railway protection force and police officials, and a Maharashtra Pollution Control Board official, to monitor garbage hotspots. "If need be, fine citizens," Gupta said.
BMC officials said they have conducted awareness drives at slums along the entire western line, and that the activity has been underway along the central line for the past two years. "Through our segregation-at-source model, we have been able to convince slum settlements to collect, segregate and send trash separately as dry and organic waste to city dumpers. We have reached out to more than 2,500 slum settlements along railway tracks, and the process will continue. We are open to suggestions from railway authorities regarding specific hotspots," said a senior official from the BMC's solid waste management department, who did not wish to be named.
"Our goal is to have litter-free tracks, and our efforts will continue till we achieve it. Keeping in mind the health of our citizens, we have a long way to go," said Udasi.
Close