Mumbai society goes solar for 81% of its needs
May 21, 2018 12:09 PM IST
The solar system will be lighting up the common areas of the society including lifts, staircase lightings, and water pumps
Mulund Darshan housing complex, located in Mulund (East), is one of the latest societies in the city to harness solar power for their electricity requirements.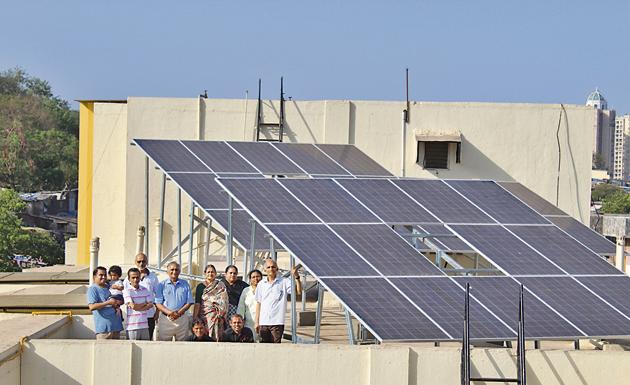 The J and K wings of the society have installed a rooftop solar system of 11.05 kilowatt power (kWp) capacity consisting of 34 panels spread across 1000 sq. feet area on the roof.
The solar system will cover 81% of the society's electricity requirements, claim residents. It will be lighting up the common areas of the society including lifts, staircase lightings, and water pumps for the two wings.
"We are constantly striving to include environment-friendly ways of living and have taken several steps to encourage our residents to be more responsible towards our ecosystem. Adopting solar power is a much appreciated inclusion in that. We believe steps taken like these make all the difference," said S Balasubramaniam, resident.
The grid connected rooftop solar system will generate approximately 16,900 units in a year, 45-50 units per day. An average two bedroom-hall-kitchen apartment in Mumbai consumes 10-12 units of electricity per day. The society also has a net metering policy that facilitates the solar system to be connected with the electricity grid.
"Units generated from the solar system will be utilized and the rest will be sent back to the grid. Any additional units required are taken from the grid. This way, at the end of the year, we pay only for the 'net' units consumed," said Balasubramaniam.
Avishakti Rooftop Solar, the private firm that installed the system during the first week of March, calculated that it will reduce carbon dioxide (CO2) emissions equivalent of 15.30 tonnes in a year.
"The system will result in annual savings of ₹1,34,000. While the society's current electricity bill is about ₹14,166 per month at ₹7.9 per unit across five metres, electricity generated through solar will reduce the electricity bill to ₹2,500 per month by combining all metres at ₹10 per unit. This means, an 82% drop in electricity expenditure," said Animesh Manek, founder and director, Avishakti Solar.
According to the Ministry of New and Renewable Energy (MNRE), an 11.05 kWp capacity system can mitigate 339 tonnes of CO2 during the entire lifespan of the system, and is equivalent to planting 548 full grown teak trees over the life time.
The society spent ₹7,75,000 to install the solar project including GST, which will take a maximum of four-and-a-half years to recover.
"Installing such a system comes with an initial cost which is a bit high. While evaluating the option, we had extensive discussions with Avishakti team about the system's durability, lifespan, and the generation. We figured that apart from recovering costs, the system will run for 25 years and demands no maintenance. It made sense for us", said KR Ramakrishnan, society member.
Manek said that the entire cost could be recovered over three years if the society received the subsidy for installation from the state government.
"All paperwork for the same is complete, and we expect that at 30% subsidy, the society will get ₹1,83,000 from the state. Therefore, the recovery cost for installation will drop by one-and-half years," he said.
"However, new rules are being promulgated by MNRE for fresh installations. Other societies planning on adopting solar need to check the updated guidelines."
Why should you care?
Solar energy is a free source of renewable energy. It does not cause pollution and instead, reduces the carbon emissions that come from burning coal, gas and oil for electricity generation.
Basics of rooftop solar panels
Sunrays contain particles of light called photons that hit the crystalline photovoltaic cells of the solar panel, which are similar to those seen in calculators and rechargeable flashlights. The solar panels convert photons into electrons in the form of direct current (DC) electricity, which is sent to an inverter. The inverter converts DC current into alternating current (AC), which is then supplied to power lights, fans and all other electronic equipment.
Half of Mumbai's electricity can be generated by solar power
A recent study by the Indian Institute of Technology Bombay (IIT-B) and think-tank Observer Research Foundation (ORF) found that Mumbai has the potential to generate 1.72 Giga Watt Peak (GWp) solar energy through photovoltaic (solar) panels installed atop buildings. This means solar energy can take care of half of Mumbai's power needs. Currently, the city generates only 5 Megawatt Peak (MWp) solar energy — 0.3% of its potential.