Mumbai society switches to solar power, will save
₹

5 lakh a year

Grace CHS also recycled 3.28 lakh kg of its organic waste into manure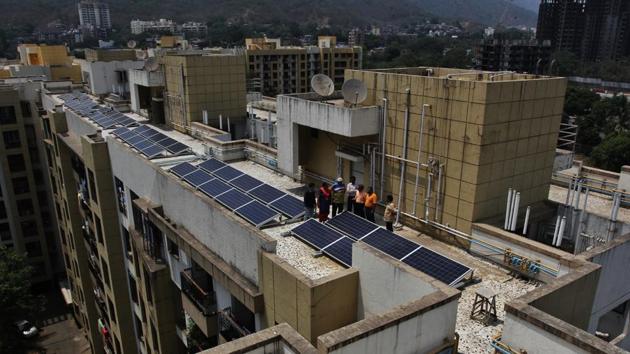 Updated on May 08, 2017 10:34 AM IST
Grace Co-operative Housing Society, Vasant Oscar, Mulund (West), switched to solar energy last month and will save Rs 5 lakh per annum in electricity bills, which means a monthly saving of Rs41,000. It got solar panels installed that help light up elevators and common areas of five buildings in the society, which has 160 apartments.
The residents of the society have also been segregating their organic waste and recycling it to manure to ensure the 100-odd trees they have within the complex stay intact. "Other than saving on electricity bills, we are also trying to reduce our carbon footprint. India has signed the Paris climate accord and it's our duty to fulfil the nation's commitment," said S C Shrivastava, secretary of the society. "Our long term goal is to save future generations from ill effects of climate change."
Set up at a cost of Rs18.5 lakh, the 29.4 kilowatt power (kWp) solar system with 94 panels will produce 45,000 units of electricity in a year and 120 units daily. A two bed-room-kitchen apartment in Mumbai uses on average 8-10 units of electricity per day. "We expect to recover the cost of installation over the next three years. We will also be recovering Rs 5 lakh through subsidy provided by Maharashtra State Electricity Board (MSEB) as per government rules," said KV Mujumdar, resident and another committee member.
Residents also estimated reduction in carbon dioxide (CO2) emissions from the project. "The use of green energy will reduce almost 30 tonnes of CO2 emissions in a year, which is equal to planting 1,250 trees," said Mahesh Rathore, treasurer of the society.
The renewable energy source will not only benefit the residents of Grace CHS but also areas in the city where electricity supply is less. A net-metering system, which allows surplus power generated by solar will be exported back to the grid and any deficiency is imported from the grid. At the end of a financial year, the society will be charged by the power supplier only for the 'net usage'. "Therefore, excess electricity will compensate areas facing power cuts in the city," said Dhaval Gori from Aditya Green Energy that set up the plant.
Moreover, the society has recycled 3.28 lakh kg organic (kitchen, horticultural) waste in past three years. Daily segregation of 300kg of wet waste and 180 kg of dry waste is done from every household.
While the wet waste is composted into 30kg of manure per month, only the dry waste is collected by the civic body's dumper truck daily.
"We are following a zero waste concept as there is 100% waste segregation in the society. Our wet waste is being converted into manure at four compost drums where waste is churned with the help of various enzymes," said Rani Pandit, a resident. "We will soon begin plastic segregation too."
Close Story
Personalise your news feed. Follow trending topics