Mumbai still has 525 unsafe, dilapidated buildings
Nov 28, 2018 08:15 AM IST
CM says BMC conducted survey in June, 163 buildings demolished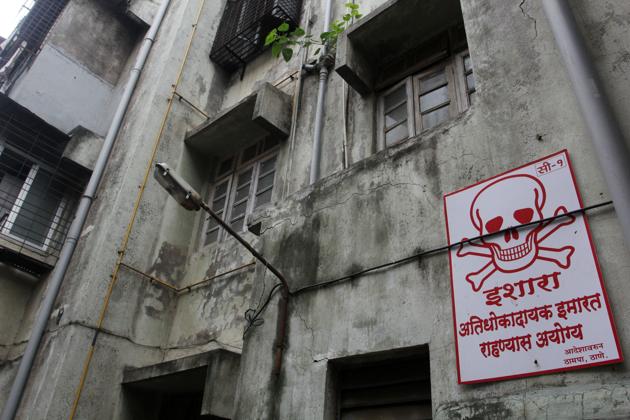 Mumbai currently has 525 unsafe, dilapidated buildings, while Thane has 72, chief minister Devendra Fadnavis told the state Assembly in a written reply on Tuesday.
The Brihanmumbai Municipal Corporation (BMC) in a survey in April found that 688 buildings were in the C-1, dangerously dilapidated, category. Of them, 163 have been demolished till October, according to the reply. The civic body has disconnected the water and power supply of 147 of the 525 buildings, while the process has been initiated in 133 buildings. BMC has managed to get 174 buildings vacated.
The issue was raised by Bharatiya Janata Party (BJP) legislator Raj Purohit during the question hour on Tuesday. He sought a detailed reply from the state government over the action taken by the civic body against the dangerously dilapidated buildings.
The responsibility of shifting the residents of such buildings is of the owner. "The civic body, too, takes up the responsibility of shifting the residents if they own the building," said the chief minister. "The residents of 167 buildings have approached court to escape BMC's action and 37 cases have been referred to the technical advisory committee of BMC," Fadnavis informed the lower house.
Of the 95 dangerously dilapidated buildings in Thane, 23 have been razed and the process of demolishing the rest is on, stated the reply. Also, 114 buildings need structural repairs that can be done only after evacuation, while 2,260 buildings need structural repairs that can be done without evacuation. The remaining 2,236 buildings need minor repairs, stated the CM's reply.
The Mumbai civic body, in June, declared a new policy to resolve disputes between tenants and owners that often lead to a delay in vacating a dilapidated building and redevelopment stuck for years. There have been cases of tenants living in transit camps for long, even though buildings are ready and flats are sold in the open market. Now, it is must for owners to enter into an agreement with tenants and assure them alternative accommodation if their building is slated for redevelopment. The policy mandates an agreement between tenants and owners to protect the rights of the former, and scientific structural audits. According to the rules, the BMC will not issue commencement certificate, if the said agreement is not produced.