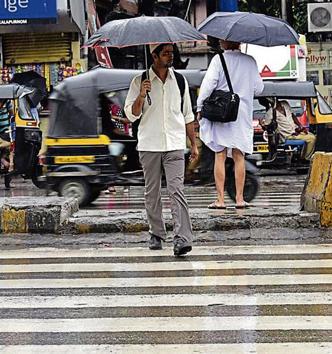 Mumbai to get safer to walk, as experts to redesign junctions for pedestrians
Civic body, US organisation, and traffic police to redesign city's junctions and streets; 10 junctions to be transformed by 2018.
Hindustan Times | By Megha Sood
UPDATED ON JUL 23, 2018 11:54 AM IST
Fifty-two per cent of people who die on the city's roads are pedestrians, reveal Mumbai traffic police statistics. This happens because Mumbai's streets are yet to be pedestrian-friendly, having the least number of crossings to enable a safe walk.
To change things in favour of pedestrians, New York-based National Association of City Transportation Officials (NACTO), Brihanmumbai Municipal Corporation (BMC) and Mumbai traffic police have begun redesigning some parts of the city.
A study done by the traffic police and World Resources Institute (WRI) along with Bloomberg Philanthropies as part of the Global Road Safety Initiative captured various trends in road accident fatalities and also classified victims of accidents.
Data collected by the agencies pointed out that out of the 490 fatalities on Mumbai roads in 2017, around 255 were that of pedestrians followed by two-wheeler riders.
The traffic police officers said that although the fatalities have reduced from 611 in 2015 to 490 in 2017, the percentage of pedestrian deaths has increased.
"Pedestrians are the most vulnerable due to lack of infrastructure promoting pedestrian-friendly junctions and roads," said Amitesh Kumar, joint commissioner of traffic police.
The study also revealed that pedestrians aged above 60 years are even more vulnerable because of the length of road crossings.
"Right to life is for every road user including the pedestrian as specified in the national urban transport policy. In Mumbai, the inadequacy of public transport is the major reason for pedestrian accidents as they rush crossing the road to catch a bus or train," said Sudhir Badami, a transportation analyst.
Starting with P'Dmello Road and five other roads, the NACTO Global designing Cities Initiative (GDCI) conducted a survey mapping the geometry of pedestrian crossings and found there was no standard length for the crossings or the distance between two crossings on one road.
"In London, the standard distance between two crossings is 100m to promote pedestrian safety. In Mumbai, however, there are crossings at 500m or even more. At some stretches like the Western Expressway, crossings are about 1km long," said Abhimanyu Prakash, Program Manager at Global designing Cities Initiative.
An elderly person or child trying to walk a 500m crossing would take nine minutes to get from one side to the other, according to GDCI. And that is unsafe given the density of vehicles plying on the road.
"Quick transit for pedestrians should be facilitated and given importance as it is given to a motorist," said Ashok Datar, an expert in urban transportation.
Studies carried out at Mith Chowk in Malad and HP Junction in Bandra showed there were many free spaces which could be utilised to ease traffic jams and safeguard pedestrians. At least 10 junctions were slotted to be transformed by 2018 by BMC and traffic police.
Prakash said that NACTO-GDCI has submitted redesigns for Ambaji Dham and Maharana Pratap Chowk in Mulund — construction on the first one has already started while the second will start after the rainy season.
"Additionally, NACTO-GDCI is working with BMC and Mumbai Traffic Police to start survey and design work on five more intersections including Lokhandwala Circle (Andheri), Chakala Junction (Andheri East) and Dharavi Bus Depot intersection," said Prakash.
Prakash said NACTO-GDCI is simultaneously working to implement these design strategies throughout Mumbai. Last year, along with BMC, NACTO-GDCI trained 100 engineers to design safe streets across Mumbai's wards.
Traffic police officials said although they had proposed a subway at the Bhatia Baug junction two years ago, nothing has been done to take it forward.
Close