NCP asks Maharashtra government to share irrigation data since 2014
Hindustan Times |
, Mumbai
Ketkai Ghoge
Mar 14, 2018 01:17 AM IST
The BJP-led government has not revealed data on irrigation potential created under its rule
The Nationalist Congress Party (NCP) on Tuesday challenged the government to share the irrigation data in the state legislature to make it clear how much irrigation potential had been created in the state since the Bharatiya Janata Party (BJP) government came to power. For the past three years, the BJP-led government has not shared this data in the Economic Survey Reports tabled in the state legislature.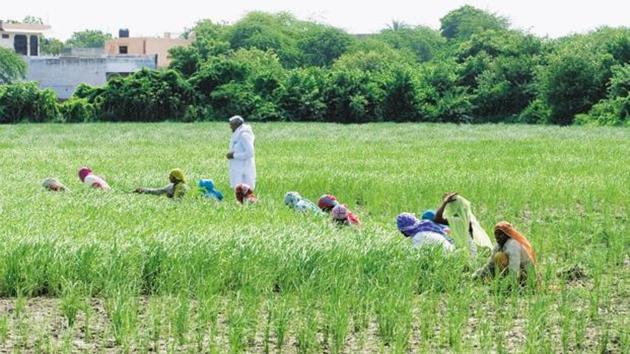 This was part of the Opposition's discussion on the 2018-19 budget in the state assembly on Tuesday. Legislators slammed the state over the general economic outlook and the poor allocation for key sectors.
"We were made to table a white paper on irrigation after we missed giving data on irrigation potential for just two years. It's been four years of the BJP rule, and we have no information on how you have fared in this sector because you blank this out every year. We demand that this information be revealed in the House,'' said former finance minister Jayant Patil.
In his budget speech, Patil also pointed out that the irrigation sector was short-changed in Maharashtra compared to other states such as Andhra Pradesh, Gujarat and Telangana that had allocated funds in the range of Rs14,000 crore to Rs 16,000 crore.
"This year, only Rs 8,080 crore has been allocated for water resources and you plan to complete 50 ongoing projects with these funds. But, last year, of the Rs8,233 crore budgeted, we have information that only Rs1,018 crore was utilised.''
The irrigation scam probe was initiated by the former chief minister Prithviraj Chavan after an Economic Survey report said that only 0.1% of irrigation potential was created in the decade even as Rs70,000 crore was invested in the ongoing irrigation projects. NCP's senior leader and former deputy chief minister Ajit Pawar and former water resources minister Sunil Tatkare faced allegations in the probe. The BJP-led government after coming to power had initiated an open inquiry against Pawar and Tatkare in the irrigation scam.
The Congress and NCP also pointed out that the increased debt of Rs4.61 lakh crore meant a Rs44,145 debt per person in the state.
"The revenue deficit last year was estimated at Rs4,511 crore and then revised to Rs14, 843 crore. Going by the state of finances, there is every chance that the revenue deficit for 2018-19 of Rs15,375 crore will get revised to Rs 35,000 crore,'' said Patil.
Chavan alleged that there was a lot of discrepancy or blanking out of figures in the Economic Survey tabled by the government. "Your last year's survey showed that nearly 4,000 factories had shut down owing to industrial slow down. But for some reason, this data for the past two years is missing in the report,'' said Chavan.