New species of burrowing frog discovered in Maharashtra
Jul 04, 2017 01:17 AM IST
Mumbai city news: It took two years for the researchers (2014-16) to identify the frog, found in the grasslands of Pune, as a new species
A new species of burrowing frog — Sphaerotheca paschima — was discovered in Pune by researchers and state forest department officials.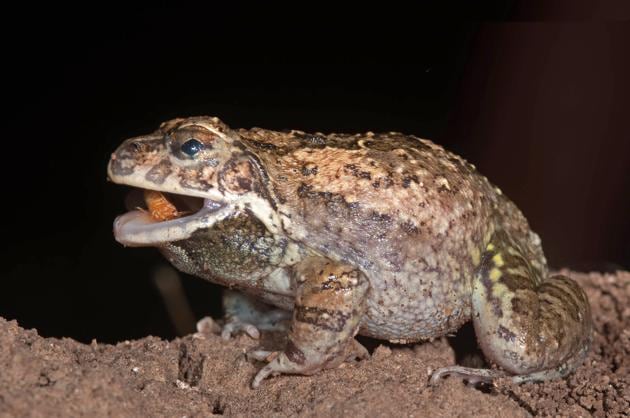 A team comprising members from Institute of Natural History Education and Research (INHER) and Pune forest division (wildlife) discovered the species at grasslands near Saswa. The findings were published as part of a research paper on Monday and will be published in the July volume of Journal of Threatened Taxa.
It took two years for the researchers (2014-16) to identify the frog as a new species. The team comprised Anand Padhye, associate professor, zoology department, Abasaheb Garware college, Pune, Dr Nilesh Dahanukar, scientist at Indian Institute of Science, Education and Research (IISER), Pune, Shauri Sulakhe and Nikhil Dandekar researchers from INHER and Sunil Limaye, former chief conservator of forests (CCF), wildlife, Pune, and Kirti Jamdade, assistant conservator of forests (wildlife) Pune.
"It was believed that it is a species previously described as Sphaerotheca breviceps. But we managed to classify it as a new species, on the basis of the frog's genetics and morphology," said Padhye. "The species is mostly spotted after the rains in open areas. But most of the time it stays close to its burrow."
He added the discovery highlights that the arid or semi-arid grassland sanctuaries of Mayureshwar, Rehekuri, Karmala and Supe were previously seen as wastelands.
"These grasslands hold a rich biodiversity and the discovery of a new species calls for their protection," Padhye said. "It was for the first time that the forest department got involved in a project and granted permissions to conduct research."
Forest department officials said being part of such projects helped them better understand the importance of conservation. "Rather than carrying out research with our permissions, we decided to partner the scientists and researchers," said Limaye. "It is astonishing to discover that such small species exist in such dry areas. This will go a long way in preserving the grasslands."
About Sphaerotheca paschima
Word pashchima is a Marathi term for west direction, identifying the location where the species was discovered. The frog is mid-sized and robust. Has brown with yellow markings on the body and is 50-60mm in length.
What is a burrowing frog?
Identified by its large, bulging eyes, short body, long legs and toes, burrowing frogs are semi-aquatic and are always found close to large water bodies. They are carnivorous animals that use their long, sticky tongue to catch their food and hunt spiders, worms and other insects. They usually live for 10 – 15 years. The frogs are found near riverbanks, marshes, streams and lakes. The termed 'burrowing' comes from their ability to make burrows in grasslands and wetlands.