Now, donate scrap for social cause
Published on Aug 28, 2016 11:57 PM IST
Pressed for money, but want to contribute for a social cause? Raddi (paper waste) would suffice.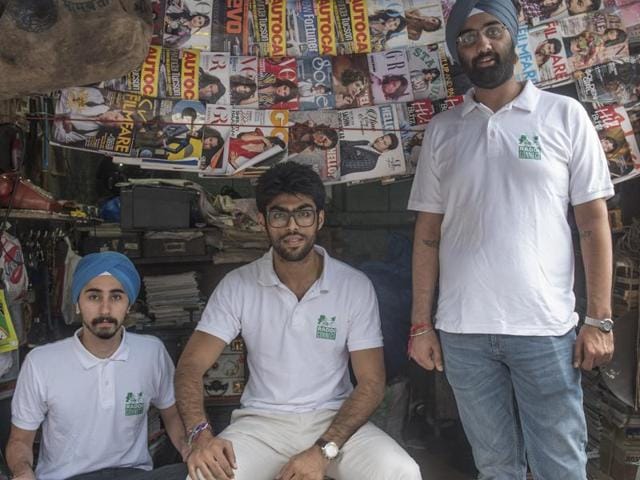 Hindustan Times |
, Mumbai
Akash Sakaria
Pressed for money, but want to contribute for a social cause? Raddi (paper waste) would suffice.
To honour your altruistic commitment, an online fundraising platform, RaddiConnect, will send a scrap dealer (raddiwala) to your doorstep to collect your recyclable waste and the proceeds will be transferred to an NGO.
Rupa Gwalani, a Bandra resident, has been donating newspapers, plastic and glass bottles to help the underprivileged and the haves-nots. She logs onto the RaddiConnect website to get the nearest raddiwala to pick up the waste. This has been her routine for the last one year.
"I love the idea of collecting waste for a social cause," said Gwalani. "I give out whatever waste I have every month. What will I do with it anyway? So I donate it."
Exactly a year ago, three Mumbaiites, in their early 20s, set up RaddiConnect, which operates from a cramped house at Khar. But that's not where it all began. Gurashish Singh Sahni, 23, Rahul Nainani, 24, and Raunaq Sahni, 21, started their journey from a coffee shop with free Wi-Fi, deliberating on the fundraising start-up, with a focus on sustainability and recycling.
"We noticed a tremendous attitudinal change during our growing-up years. People were throwing garbage just about anywhere with no discipline on waste segregation and disposal in the city," Raunaq said.
"We wanted to create a platform to lessen and gradually stop disposing recyclable waste materials from reaching the dumping yard," he added.
The trio roamed around the city to collaborate with raddiwalas and roped in 80 of them. Once the network was established, the team got on board five non-government organisations (NGOs) working for orphans, women's empowerment, rag pickers, schools and accommodation for children suffering from cancer.
"The biggest challenge is to create awareness among people that waste can also be useful. Raddiwalas and rag pickers should also get their bit since they are the ones who clean the city," Rahul said.
Having started their network between Colaba and Goregaon, the team will extend operations up to Kandivli from Monday. Besides households, RaddiConnect gets waste from corporate houses, institutions, schools and organisations.
"The public response has been aggressive," said Raunaq.
"Our initiative is only a-year-old and our customers are increasing every day. This shows that Mumbaiites are concerned about the environment. They only need a platform."
With most customers opting to donate to the NGOs, RaddiConnect has contributed more than Rs2.5 lakh to the NGOs over the last year.
Rajesh Gautam, 35, one of the first raddiwalas to collaborate with RaddiConnect, said, "I did not understand the process at first, but when I got to know the benefits of recycling for the environment, I was happy to be part of the network."
Personalise your news feed. Follow trending topics