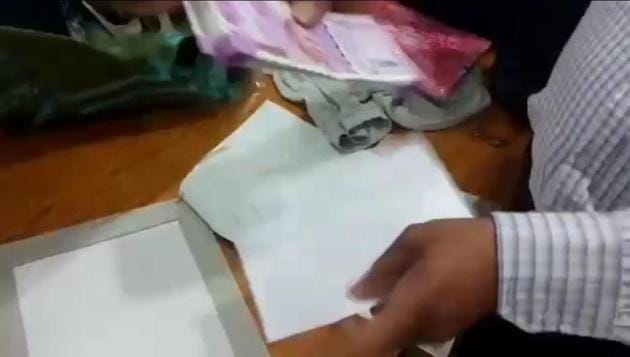 Officials seize
₹

43 lakh in 3 foreign currencies at Mumbai airport

A preliminary investigation revealed that the three men came to Mumbai to change the currency, expecting good rates.

PUBLISHED ON DEC 29, 2016 12:21 AM IST
Officials of the Air Intelligence Unit (AIU) arrested three men at the Mumbai airport on the intervening night of Tuesday and Wednesday after they were found in possession of foreign currency worth Rs 43 lakh.
The accused – Shaik Waheed Ali, Mohammed Sohail and Shaikh Yousuf Pasha – had arrived in Mumbai from Hyderabad. A thorough search of Ali's checked-in baggage resulted in the recovery of 1,39,000 Saudi riyals, 56,500 UAE dirhams and 14,000 Australian dollars, worth a combined Rs43 lakh.
"The currency was wrapped in newspapers and cleverly concealed in the bag. The suspects said they brought the currency from Saudi Arabia during their visit last week but didn't declare it to customs on arrival," said a high-ranking AIU officer, who did not wish to be named.
A preliminary investigation revealed that the three men came to Mumbai to change the currency, expecting good rates. "The three are friends and had come to city to sell the currency to a foreign exchange dealer. The selling rate for foreign currency in higher in Mumbai than in Hyderabad," said the officer.
The foreign currency has been seized and a case registered against the three suspects under relevant sections of the Customs Act, 1962, and the Foreign Exchange Management Act (FEMA), 2000.
Under the rules, anyone can bring foreign exchange into India without any limit. However, foreign exchange and Indian currency need to be declared in the prescribed currency declaration form if the value of foreign currency notes exceeds US$5,000 or equivalent, or if the aggregate value of foreign exchange (in the form of currency notes, bank notes, traveler's cheques, etc) exceeds US$10,000 or its equivalent.
Language barrier being used as shield
The Air Intelligence Unit on Tuesday arrested Arif Koyante, who was leaving for Dubai, for possessing Rs25 lakh in Rs2,000 notes. Koyante is from Kerala and does not speak Hindi or English. This, according to officials, is the common practice followed by smugglers to ensure the language barrier hampers investigation in case the mule or carrier gets caught.
"They do this so that investigators cannot interrogate the accused in detail. We are, however, questioning him in his native language," said the officer.
According to AIU officials, Koyante was on his way to Dubai when he was intercepted. "Detailed examination of his checked-in-baggage resulted in the recovery of Rs 25 Lakh in Rs2,000 notes that were concealed in 52 white envelopes. These envelopes were placed on 13 piece of cardboard, around which the passenger's clothes had been folded," said a high-ranking officer, who did not wish to be named.
The law strictly prohibits the export of Indian currency but Indian citizens can take up to Rs25,000 when they go abroad. He added, "The currency was seized on the reasonable belief that it was being smuggled out of India and therefore liable for confiscation under the law. The passenger has admitted to possessing, carrying and concealment the currency. He has been arrested."
Close