Ola-Uber cab strike likely to be called off today in Mumbai
Oct 30, 2018 08:41 AM IST
A joint meeting with the transport commissioner has been scheduled for 3.30pm on Tuesday, after which a final decision will be announced
After a marathon meeting with the Ola and Uber managements that went on for more than seven hours, leaders of the app-based cab drivers' union indicated that the strike may be called off on Tuesday. A joint meeting with the transport commissioner has been scheduled for 3.30pm on Tuesday, after which a final decision will be announced.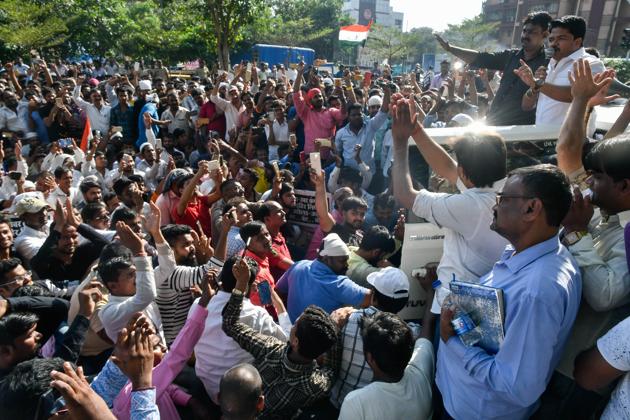 Since October 22, the majority of app-based cab drivers have been on an indefinite strike. On Monday morning, approximately 500 protestors gathered outside Ola's office in Chakala. After some attacked a few drivers who were not participating in the strike, the police intervened. This was followed by a meeting between the Ola and Uber managements, and the cab drivers' union.
"Both Ola and Uber company managements have agreed to most of our demands, but we want them to confirm this in front of transport authorities before calling off the strike," said Govind Mohite, leader of Maharashtra Rajya Rashtriya Kamgar Sangh, which has led the week-long strike.
An official statement from Uber said, "Uber is proactively exploring all possible options to restore services and best support our driver partners. In this respect, we have engaged with relevant stakeholders today to solve the impasse. We wish to reassure city authorities, our driver partners, and riders that restoring services at the earliest remains our highest priority." Ola has not issued a statement since the strike began.
Mohite said both the taxi aggregators have agreed to maintain the driver's income at a stable level and keep their per kilometre fare at ₹12, ₹15, and ₹19, depending upon the category of the vehicle. The protesting drivers had demanded the fare be revised to ₹18, ₹20 and ₹23. The union leader claimed that the companies have also agreed that company-owned cabs will now charge a fixed amount of ₹900 for running up to 200 kilometres. Mohite said the managements had also agreed to reinstate drivers who had been blacklisted because of low customer ratings.