​Plastics ban in Mumbai: Easy to notify, hard to implement
Apr 04, 2018 09:18 PM IST
The scope and framework of the ban are so vast that it is (almost) designed to fail
Does Mumbai have a plastics problem? With all kinds of plastic items clogging the drains, showing up on its beaches, causing floods by blocking the flow of rain water, occupying precious landfill space, going into the stomachs of the beloved Gau-mata, it would be hard to deny that the city, like the rest of the state, has a problem. An undeniable, gargantuan problem.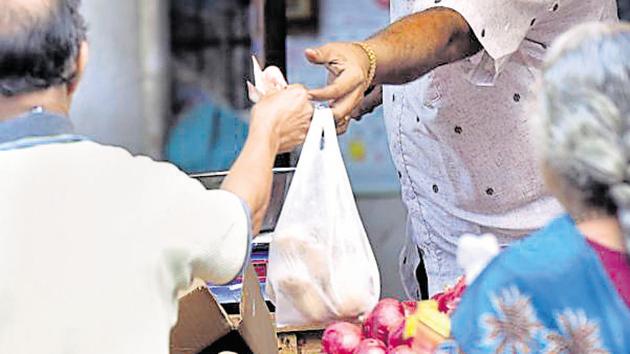 An over-arching and blanket ban, according to the Devendra Fadnavis government, is the solution. The cabinet cleared the ban on March 15 and issued the notification later. It covers plastic bags of all sizes and thicknesses, disposable plastic plates, bowls, cups, straws, cutlery and thermocol. The exempted items are waste bin liners, medicine packaging, processed food wrappers, milk pouches and PET bottles; the latter two carry an additional charge which will be refunded to consumers when they are returned for recycling.
Stay tuned with breaking news on HT Channel on Facebook.
Join Now
Stiff penalties have been proposed for violating the ban: Rs5,000 for first offence, Rs10,000 for second offence, and Rs25,000 and three-month imprisonment for third offence. The onus is on all those who manufacture, sell, transport, handle, store and use the banned items.
Already, shops and vegetable vendors have stopped handing out plastic carry bags, a few takeaway restaurants are experimenting with other cutlery, and the word is spreading. Mumbaiites are making mental notes to carry their own jute or cloth bags. Most people agree that the mounds of plastic have led to serious ecological issues. So far, so good.
But will the ban work; can it be implemented at all? Here lies the crux of the issue. Its scope and framework are so vast that it is (almost) designed to fail. After all, as many as 17 states and union territories have tried to introduce similar blanket bans — without much success. Even the most optimistic environmentalists have expressed doubts about the implementation.
The Maharashtra Plastic and Thermocol Products (Manufacture, Usage, Sale, Transport, Handling and Storage) Notification of 2018 places the responsibility on urban local bodies in cities and district administrations in rural areas to carry out the ban. This, for us, is the Brihanmumbai Municipal Corporation which, among other things, has not yet managed to put in place an efficient and workable solid waste management system. Its attempts in the last few years to segregate waste and send the recyclables — including plastics — to appropriate recycling units have come a cropper. How is the BMC expected to implement the ban without mishandling or mismanaging it at the ground level?
For the first time, the onus of reducing and eliminating the use of plastic has been put on users too. This must have come from the simplistic belief that if there's no demand, there won't be a supply or manufacture of these items either. Easier written into a notification than implemented. Show me a house in Mumbai which, irrespective of its size, does not have a corner to tuck away plastic bags and containers for those "kaam mein aayenge" moments and there's your prime reason why effective implementation is next to impossible.
Trade bodies of plastic manufacturers and traders have taken the issue to the high court already, as was expected. They claim that the ban will adversely affect nearly 8,000 industrial units and leave 20 lakh people unemployed. That's another argument altogether.
There were ways other than a ban. The state government could have worked out categories of plastic items in use with a mandatory recommended disposal method for each; a system to ensure that all the reusable and recyclable plastic is routed to appropriate channels; a clear roadmap for the implementation of such a graded policy; and a lead time of a few months in which people across the board from manufacturing to end users could make the switch to ecologically-friendly alternatives.
Just as many Mumbaiites wisened up to the existence of rivers in its natural ecology after the devastating flood of July 2005, so did they realise the gargantuan plastics problem then. There was an effort to regulate the use and disposal of carry bags of less than 50 microns. A law was introduced to this effect but it was only fitfully implemented. The problem became bigger. Now, this wholesale ban is like throwing the kitchen-sink at it