Preparations underway to fly Eman to Abu Dhabi on Sunday
Hindustan Times |
, Mumbai
Sadaguru Pandit
May 01, 2017 09:25 AM IST
A special hydraulic stretcher is being brought from Italy to help move the 171-kg woman around.
Medical experts from Abu Dhabi-based VPS Healthcare, who are looking for a chartered aircraft to take Egyptian Eman Ahmed — formerly the world's heaviest woman — from Mumbai to Abu Dhabi for rehabilitation, said that they were committed to flying her out on Sunday.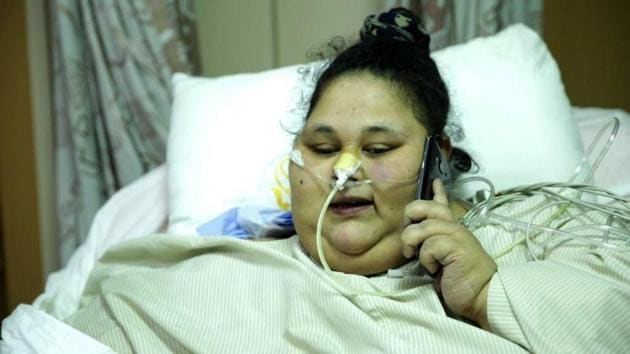 "We need a chartered aircraft to take her to Abu Dhabi and are analysing the best possible options for her travel," said Sanet Meyer, director of Medevac, VPS Healthcare.
She added that a special hydraulic stretcher is being brought from Italy and VPS is looking for an ambulance that can take her from Saifee Hospital to the airport.
Meyer confirmed that she would head a team of nine experts to travel with her to Burjeel Hospital in Abu Dhabi. "We have a number of specialised rooms at Burjeel medical facility where Eman will be treated for neurological and physiological rehabilitation," she said.
Meanwhile, doctors at Saifee Hospital are preparing documents required for the transfer. Eman's medical documents, which number around 10,000, will be handed over to VPS Healthcare.
Eman's security has been tightened since her sister gave her water against the orders of her doctors. Eman had difficulty swallowing and so doctors had advised that she be fed only through a tube.
"We alerted the police station after the incident and increased security to ensure that in a fit of rage, she does not do anything that may harm her sister. We are happy that Eman is leaving in a much better condition than she was brought in," said Dr Aparna Govil Bhaskar, head of bariatric surgery at Saifee Hospital.
Speaking to HT, Shaimaa said that Eman was happy and relieved to meet Dr Shamsheer Vayalil, the founder and managing director of VPS Healthcare Group.
Dr Vayalil and his team met Eman on Thursday morning, allegedly without informing Saifee Hospital.