Preserve mangroves to avoid future flooding: Research body
According to data from the state-appointed mangrove and wetland committee appointed as per Bombay high court (HC) orders, there have been 75 complaints of mangrove and wetland destruction along the Konkan coast in 2019 so far.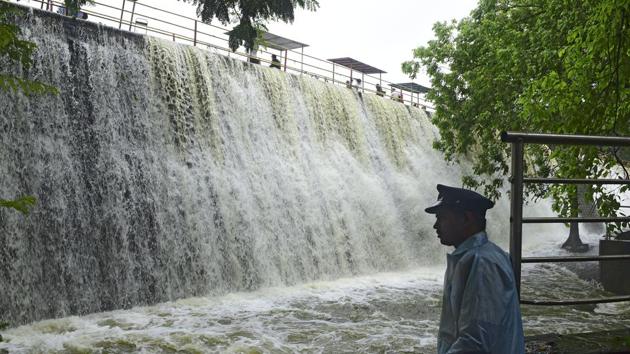 Updated on Jul 03, 2019 06:34 PM IST
With the incessant rain leading to flooding and severe waterlogging in the suburbs, the Mangrove Society of India (MSI), a research body working on mangrove conservation across the country's coastline since 1990, issued a statement alerting the Maharashtra government to ensure mangrove forests, coastal and inland wetlands, and green zones are protected to avoid future flooding.
MSI members said with growing incidents of extreme weather events and fast accumulation of rainwater, fresh plantations and conserving existing salt-tolerant trees can help reduce the extent of flooding. "If we try to play with nature through human interventions, the response from nature will be disastrous as witnessed on July 26, 2005 (floods that killed over 1,000 people), and between Monday night and Tuesday morning in Mumbai with over 200mm rain," said Arvind Untawale, executive secretary, MSI and former director, National Institute of Oceanography (NIO), Goa.
According to data from the state-appointed mangrove and wetland committee appointed as per Bombay high court (HC) orders, there have been 75 complaints of mangrove and wetland destruction along the Konkan coast in 2019 so far, with a majority of cases reported from the Mumbai Metropolitan Region (MMR). Of these, investigations into 74% of the cases remain pending. "Reports from district collectors on pending cases have been received. We are currently studying them and will soon initiate directions for final action," said Neenu Somraj, member secretary of the HC-appointed committee.
"Mangroves and wetland areas are being neglected, especially in parts of MMR such as Navi Mumbai and Uran," said Untawale. "No one is against development, but it has to be sustainable after taking inputs from all stakeholders about possible impacts and solutions of any project."
MSI raised its concern over projects such as the bullet train, coastal road, Navi Mumbai International Airport (NMIA) and activities by Jawaharlal Nehru Port Trust that threaten the current expanse of mangroves, wetlands, saltpans, and other eco-sensitive zones. MSI was the first body appointed to study mangrove loss for the Mumbai-Ahmedabad bullet train project. "Accurate figures were given for loss of mangroves and a detailed report was submitted in terms of remedial measures. However, the report has not seen the light of day while work is underway for the project," said Untawale.
HT reported on Saturday that at least 32,044 trees will be axed across 9.8 hectares for the bullet train project, the state forest department said.
Incidents of mangrove and wetland destruction across Navi Mumbai and Uran areas of MMR led to severe flooding across residential areas of the satellite city, including the proposed site for the NMIA and Jaskhar, Jasai, Karal and Dungi. "Despite several warnings and reminders, reclamation activity was not stopped at Uran or areas around NMIA, which has led to severe flooding even inside people's homes. Manmade channels are unable to bear the unusual water pressure and mangroves are the first barrier against this, not barren lands," said activist BN Kumar, director of The Nature Connect.
On Tuesday morning, residents living in Kranti Nagar, Kurla, were shifted to a civic-run school by the Indian Navy after water from the Mithi River entered their homes. "It is high time and long overdue that the state incorporates the concept of floodplains and floodwater holding areas in its development plans. Not every landmass needs to be constructed, especially naturally low-lying ones. They need to be free of reclamation," said Stalin D, director, Vanashakti and member of the mangrove and wetland committee.
Based on amended notifications passed by the Centre over the past year for new wetland rules and coastal regulation zone (CRZ) norms, the Maharashtra government stopped demarcating coastal wetlands, while CRZ rules opened up real estate development in coastal areas by increasing floor-space-index (FSI) up to 3 from 1.33 for Mumbai city and 1 to 2.7 for suburbs. Additionally, the provision helped the state to issue clearances for redevelopment activities wherever stopped near bays, creeks, rivers etc. in the city
"To appease the state's vested interest, the Centre has tampered existing rules protecting the coastline and ecologically sensitive zones. Now, these areas are being witnessed as land banks filled with cement and concrete further aiding flooding," said Stalin.
Brihanmumbai Municipal Commissioner (BMC) Praveen Pardeshi said extremely heavy rain over two days helped cover entire June average rainfall while the same over four days covered almost half the July average rain, which was indicative of an extreme weather event under impacts of climate change. "Our stormwater drainage caters to a maximum of 50mm per hour, and with 200mm rain, they will overflow forcing us to artificially pump out water. In the long run, we have to protect the mangroves and natural areas such as the Sanjay Gandhi National Park that act as a big carbon sink," he said. "Mangroves need to be protected through removal of encroachments and stopping debris littering. Residential areas need to focus on natural forests rather than artificial gardens."
Pardeshi said a circular was passed by BMC that wherever there are recreation grounds, urban forests will be made through Miyawaki method – a Japanese plantation technique where these forests grow 10 times faster and 30 times denser than traditional plantation techniques. "There will be mini urban forests with intense plantations."
Charkop residents
Residents of Charkop have claimed that the mangrove forests in the area helped absorb flood water and protect ed their area. "At a time when most parts of the suburbs was inundated, major roads of Charkop, especially along sector 8, shows the importance of how mangroves can help absorb rainwater and outlets made into the mangrove forests allowed the water to flow through ridding the entire area of water logging," said Mili Shetty, resident of Charkop.
The state mangrove cell confirmed that the presence of mangroves did reduce the extent of flooding across many areas in the Mumbai suburbs, including Charkop. "The mangroves being coastal wetlands have a huge capacity to absorb large quantities of water. In times of floods, they are our natural capital, which needs to be preserved at all costs," said N Vasudevan, additional principal chief conservator of forest, state mangrove cell. "Year after year, residential communities are realising and appreciating the value of these trees."
Experts however had a word of caution. "Under the garbs of excessive real estate development and proposed infrastructure projects, fragile ecological areas are being lost without undertaking appropriate restoration efforts or apprehending future consequences. Forthcoming extreme weather events are likely to batter the city much worse than July 2005 unless we get our act together," said Arvind Untawale, executive secretary, Mangrove Society of India.
A natural area in the city, Aarey Milk Colony, one of the last remaining green lungs, has been a bone of contention ever since a proposal to build a car-shed for the Metro 3 line (Colaba-Bandra-SEEPZ) was floated despite having a major share of 4 lakh trees and forming a crucial part of SGNP's eco-sensitive zone.
Close Story
Personalise your news feed. Follow trending topics