Raju Shetti leaves ally NDA, blames Centre, Maharashtra government for cheating farmers
But the BJP remains unfazed and says that Shetti's exit wont affect the party.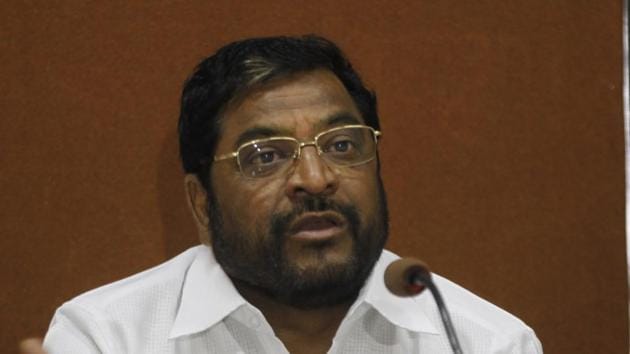 Updated on Sep 01, 2017 02:17 AM IST
Farmers' leader and Swabhimani Paksha president Raju Shetti finally left the Bharatiya Janata Party-led National Democratic Alliance (NDA).
He has slammed Prime Minister Narendra Modi, saying that the farmers were cheated by promising double input cost as minimum support price (MSP) for their produce.
However, considering Shetti's influence among farmers, his exit is unlikely to affect the saffron party in the state and at the Centre, says a BJP leader in the state.
After a party meeting in Pune on Wednesday, Shetti declared his decision to leave the NDA, which he joined ahead of the 2014 Lok Sabha elections. Speaking to HT, he said, "The decision on Swaminathan Commission recommendations over giving double input cost as MSP to farmers against their produce was not taken in the last three years despite giving an assurance in the run-up to the Lok Sabha polls."
'Swabhimani Shetkari Sangathana' headed by Shetti is a farmers' organisation that supported the BJP through its political arm 'Swabhimani Paksha' in 2014. His outfits have always fought against the sugar lobby dominated by the Congress and the NCP. Shetti was elected as a Member of Parliament (MP) from Hathkanagale constituency of Kolhapur district from western Maharashtra, which is considered as sugar bowl of India.
Political experts also believe that Shetti's influence is limited to few districts of western Maharashtra and thus the BJP will not be impacted with this decision.
Prakash Bal, political analyst said Shetti lost his credibility among farmers when he joined the BJP. "Shetti has also lost his senior colleague Sada Khot, who was recently removed from the party," Bal added.
Khot is minister of state for agriculture in the state BJP government and was considered the number 2 in the Swabhimani Paksha. A source said Khot was planning to launch his own farmers' outfit which will support the BJP. "Preparations are on in full swing and soon Khot's new farmer outfit will be launched," the sources said. He refused to comment on Shetti's decision saying this is their internal matter.
Khot's move will again result in splitting the Shetti's influence among the farmer community, it is believed.
Significantly, both Shetti and Khot were considered young peasants leaders in the farmers' outfit led by late Sharad Joshi. Later, they had formed their own outfit.
Veteran farmer leader Raghunath Dada Patil said it is wrong to say that Shetti left the NDA as BJP government has not accepted the recommendations of Swaminathan Commission when Modi government on February 6, 2015 had filed an affidavit in Supreme Court that they cannot accept the commission's recommendations.
BJP spokesperson Madhav Bhandari said they tried to hold back Shetti as their partner but he left for his own reasons. "All their demands for giving share in the government were also accepted," he added.
Close Story
Personalise your news feed. Follow trending topics