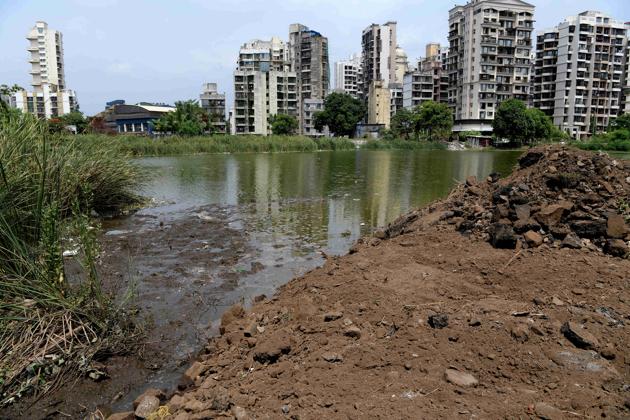 Residents rejoice after HC stays debris dumping at Kharghar pond
Based on PIL filed by the residents on Wednesday, the court had scheduled an emergency hearing for 3pm Thursday
PUBLISHED ON JUN 07, 2018 11:46 PM IST
Kharghar residents from Sector 18 and 19 heaved a sigh of relief after the Bombay high court stayed debris dumping at a pond in the vicinity.
Based on public interest litigation (PIL) filed by the residents on Wednesday, the court scheduled an emergency hearing for 3pm Thursday. The next hearing has been scheduled in July.
Commenting on the court order, Pramod Patil, environment and forest official, City and Industrial Development Corporation (Cidco), said, "Though the area is not listed as a wetland in our maps, nothing is above the court order. If the court has issued a stay, we have to follow it. Until the final order, no more debris will be dumped at the site."
Chandra B Pandey, 52, resident of Sector 19 , who spent two days drafting the PIL, said, "I'm happy that court ruling was in favour of the residents. Now that it is a court order, Cidco and other agencies will have to stop dumping debris."
He added the residents have been trying hard to save the remaining pond and the court order has given them a new hope.
"We now have to restore the pond to its original glory," he said.
Nareshchandra Singh, founder-member of NGO Abhivyakti, who initiated the drive to save the pond said, "This victory has given us hope that we can save water bodies from debris mafia. Now we need to work hard and restore the pond to its past glory, which is the crucial part. Also, we need to tell authorities about the court order and ensure that they stop debris dumping at the immediately."
He added Sunil Agarwal, who has been fighting to save Talawe wetland, was their inspiration and guide. "It was Agarwal who helped us file the PIL and tackle the paperwork," Singh said.
Agarwal said it was the victory of the people and could inspire others to fight against similar issues.
"Their determination brought a positive change, as the court has now instructed the collector that an official not below the rank of rehsildar should inspect the area under police protection and submit a report to the court," he added.
Tripta Sharma, 75, a resident of Sector 19 who was instrumental in protesting debris dumping at the pond, said their hard work has paid off.
"We are hopeful that there would be no more debris dumping and we'll be able to save the pond."
Once spread across five hectares , the pond has been reduced to one-tenth of its original size.
Residents said neither the wetland grievance committee nor the police helped them put an end to debris dumping, which has been underway in the past one month.
They said the pond may disappear in a few days if debris dumping continues.
Wetland committee member Stalin Dayanand on Wednesday had said that rather than filing a PILpublic interest litigation, the residents should have filed a contempt of court because debris dumping violates the court order.
Close