Sena-BJP ties had its share of trouble during Vajpayee rule, but things never turned ugly
The animosity and bitterness seen today in the Sena-BJP alliance, was absent.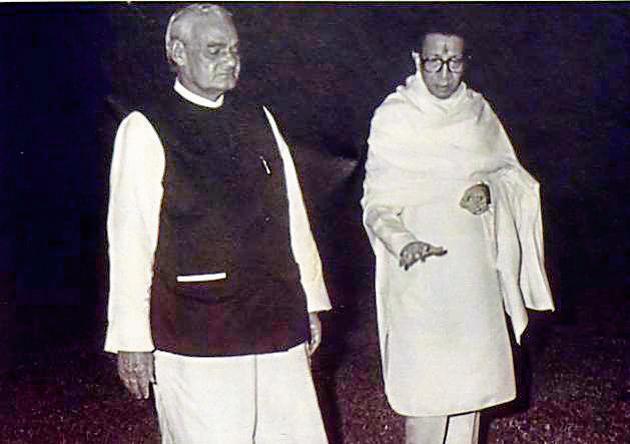 Published on Aug 17, 2018 01:05 AM IST
Former Prime Minister and patriarch of Bharatiya Janata Party (BJP), Atal Bihari Vajpayee, who headed the NDA government for a full term from 1999 to 2004, had a turbulent relationship with the Shiv Sena.
During those five years, Sena founder Bal Thackeray often threatened to pull out of the NDA, but despite differences, Vajpayee and Thackeray continued to respect one another. The animosity and bitterness seen today in the Sena-BJP alliance, was absent.
Thackeray often had a bone to pick with Vajpayee's government. He didn't like his ministers getting insignificant portfolios. And he didn't agree with Vajpayee's "softer approach" to Pakistan-sponsored terrorism.
Vajpayee — irked by NDA allies, including Thackeray, Mamata Banerjee and J Jayalalitha — had even set down a code of conduct for the allies so that they would not seem divided. He once even offered to step down, but Thackeray opposed this, recalled a senior BJP minister.
"Balasaheb had huge respect for Vajpayeeji. Ahead of the 2004 polls and during the seeming rivalry between Vajpayee and Advani, Balasaheb had clearly endorsed and backed Vajpayee. So there was no hostility," said a senior Sena leader.
Much of the credit goes to late BJP leader Pramod Mahajan, who is seen as the architect of the alliance. A trusted lieutenant of Vajpayee and also close to Thackeray, Mahajan ironed out the differences. In 2011, a year before Thackeray, he said in an interview to Saamana, "Vajpayee was and is great."
"Even then there was one-upmanship between the Sena and BJP. But there was also better understanding between the two leaders and hence greater coordination,'' said a BJP leader.
The alliance was based on BJP conceding space to the Sena in Maharashtra while the former would get the bigger share in the national arena. This formula was challenged after the Narendra Modi came to power. The Sena is still reeling from the loss of its position as big brother.
Sena chief Uddhav Thackeray said of Vajpayee, "He was elected as the prime minister three times, but he carried the small parties of the National Democratic Alliance together. It was Atalji's step to take everybody along that made NDA strong. He was miles away from arrogance or pride." Thackeray's statement also indicates his irritation at current central government. While the Sena laments the loss of Vajpayee's BJP, the BJP mourns the loss of Bal Thackeray's Sena.
Close Story