SH Raza's 35 paintings on display in Mumbai from June 24
Hindsutan Times |
, Mumbai
Krutika Behrawala
Jun 20, 2018 11:02 AM IST
Opening at Lower Parel's Piramal Museum of Art this Sunday, SH Raza: Traversing Terrains is the first major retrospective of the iconic modernist since his death in 2016.
For art enthusiasts, history buffs and those looking to connect the two, a grand retrospective show of Sayed Haider Raza's works will hold as many overlaps as surprises. Opening at Lower Parel's Piramal Museum of Art this Sunday, SH Raza: Traversing Terrains includes 35 paintings spanning five decades of the artist's work from the 1940s to the 1990s, rare photos and artefacts. It's also the first major retrospective of the iconic modernist since his death in 2016.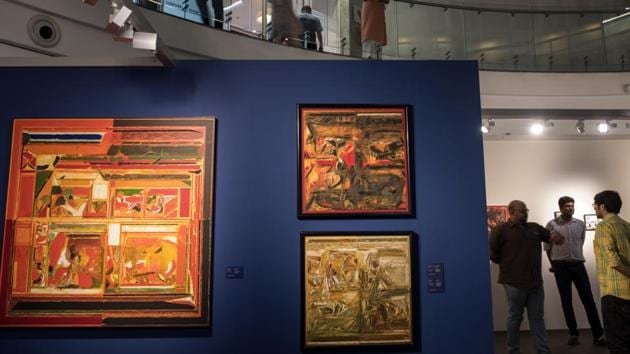 The show traces the evolution of his art practice. Early works show expressionist landscapes of the cities that Raza lived in. Later paintings are more abstract. They blended his French training, western modernism and celebrated Indian iconography, ultimately leading him to his most famous motif, the Bindu as the centre of creation, which he began painting in the 1980s.
"When you think of Raza, the first thing that comes to your mind is the Bindu. We want to show the physical and intellectual journey he took to arrive at it," says Vaishnavi Ramanathan, curator and art historian at the museum, who has co-curated the exhibition with the museum's director Ashvin E Rajagopalan.
Early works reflect his time spent in Mumbai. Born in rural Madhya Pradesh, he arrived here in 1943, after being awarded a scholarship to attend Sir JJ School of Art. Watercolour works of bustling Princess Street and Bomanji Lane in Fort reflect his first brush with cosmopolitan life. "He would paint on the spot, so his works were spontaneous; he wouldn't even mask the pencil lines," Ramanathan says. "That way, he developed a visual language that captured the hustle and bustle of the city."
Mumbai also became a city where he forged lifelong bonds with artists FN Souza, HA Gade and MF Husain. They eventually became the founding members of Bombay Progressive Artists' Group. Letters the artist exchanged with his peers are part of the show, as is a painting by Walter Langhammer. The Austrian war émigré allowed Raza to work from his Nepean Sea Road studio and went on to mentor the artist.
Another section explores Raza's life in France from 1950s. He enrolled at École nationale supérieure des Beaux-Arts in Paris, travelled across Europe and settled in Paris where exhibited his work until 2010 before returning to India. On display are the artist's heavy oil paintings and letters sourced from Galerie Lara Vincy, which curated his first solo show in Europe in 1958. The show also features small-format works influenced by post-war American art foreshadowing his later miniature-style works from his travels across the country.
Diary entries at the exhibition show how Raza meticulously catalogued his works and whom they were sold to. Most works are from the Piramal collection, but the archival images and other artefacts come from the Raza Foundation, the artist Krishen Khanna and Galerie Lara Vincy Archives.
"In this globalised world, artists are constantly probing about their identity," Ramanathan says. "This is something Raza explored back then and realised how you can be Indian and international at the same time. He could see the world without losing his identity. That's why he remains relevant today."
"Exciting news! Hindustan Times is now on WhatsApp Channels
Subscribe today by clicking the link and stay updated with the latest news!"
Click here!